Yaskawa Motoman Receives Special Recognition Award from Honda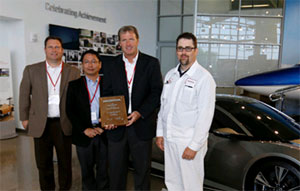 Dayton, OH — Yaskawa America, Inc., Motoman Robotics Division, a leading industrial robotics company headquartered in Miamisburg, Ohio, was selected by Honda to receive a Special Recognition award. Honda honored the company along with other suppliers that provide indirect products and services to Honda automotive plants located in Indiana and Ohio. The award winning companies were honored for achievements in the categories of Special Recognition, Outstanding Value, Performance Excellence and Supplier of the Year.
Yaskawa Motoman President and COO, Steve Barhorst, accepted the honors on the company's behalf during a ceremony held at the Honda Heritage Center in Marysville, Ohio. Also representing Yaskawa Motoman were Hiroyuki Nagatsu, Senior Vice President – Global Sales Team and Doug Burnside, Senior Director – Customer Care.
"Indirect suppliers support nearly every aspect of our business," said Tom Lake, vice president of North American Purchasing at Honda North America, Inc. "The 16 suppliers recognized have truly gone above and beyond, providing extraordinary support to Honda in 2014. We never could have achieved so much in a single year without their strong efforts."
"We are honored to have been recognized for providing the support and educational tools Honda's team members need to be effective with our solutions," stated Steve Barhorst, President and COO, Yaskawa Motoman. "We appreciate Honda's efforts in establishing long term business partnerships, and we look forward to a continued successful relationship."
About Yaskawa Motoman
Founded in 1989, the Motoman Robotics Division of Yaskawa America, Inc. is a leading robotics company in the Americas. With over 300,000 Motoman® robots installed globally, Yaskawa provides automation products and solutions for virtually every industry and robotic application; including arc welding, assembly, coating, dispensing, material handling, material cutting, material removal, packaging, palletizing and spot welding.