Yaskawa Motoman Prepares for Continued Growth with New V.P. and Organizational Changes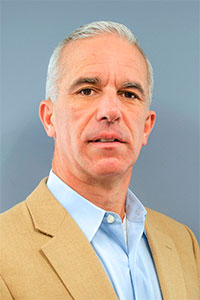 Dayton, OH — Yaskawa Motoman continues to prepare for additional growth and is pleased to announce a new leader for their North American sales and marketing team, as well as key organizational changes that position the company for the next stage of growth and customer service.
Scott Jenkins has joined Yaskawa Motoman as Vice President of North American Sales & Marketing. "Scott brings several years of executive-level industry experience in sales and marketing. He is a proven executive that delivered exceptional results for ITW Welding Group, a well-respected technologies organization. We are fortunate to have Scott join our executive leadership team, bringing a breadth of knowledge in sales, marketing and product development," stated Steve Barhorst, President and COO of Yaskawa Motoman.
Jenkins was formerly Senior Vice President of Sales & Marketing for ITW Welding Group, overseeing all sales and marketing activities for Miller, Hobart, Bernard and Tregaskiss. Prior to ITW, he held a leadership role at Detroit Diesel Corporation for six years and also held various positions at Cummins, Inc. Jenkins brings nearly three decades of experience in industrial manufacturing and distribution to Yaskawa Motoman.
"Yaskawa is rich in history and innovation, celebrating their 100-year anniversary in 2015. I look forward to helping write the next chapter for Yaskawa Motoman by providing strategic leadership for sales and marketing initiatives," said Jenkins.
Yaskawa Motoman is also pleased to announce the following:
Doug Burnside, previously Sr. Director of Customer Care, has been promoted to Vice President of Customer Satisfaction for Yaskawa Motoman. In this role, Burnside will join the Yaskawa Motoman executive team, providing leadership and vision for customer service related opportunities. Burnside has been with Yaskawa Motoman for 10 years, with key contributions in customer care, aftermarket sales, and pre-owned certified robot programs.
Doug Schenher, previously Vice President of Customer Satisfaction for Yaskawa Motoman, has assumed the role of Corporate Vice President of Yaskawa America, Inc. In this new position, Schenher will provide leadership and guidance on organizational development and planning for both the Motoman Robotics Division and the Drives & Motion Division. Schenher has been with Yaskawa Motoman for 11 years, contributing significantly to the development of customer satisfaction programs, including service and support, technical training and aftermarket sales.
"The addition of Scott Jenkins, the promotion of Doug Burnside and the enhanced corporate role for Doug Schenher will help to position our organization for future growth. Yaskawa is a global leader in technology and automation products, and the expertise provided by these individuals will help continue to drive our success in the market," Barhorst added.
About Yaskawa Motoman
Founded in 1989, the Motoman Robotics Division of Yaskawa America, Inc. is a leading robotics company in the Americas. With over 300,000 Motoman® robots installed globally, Yaskawa provides automation products and solutions for virtually every industry and robotic application; including arc welding, assembly, coating, dispensing, material handling, material cutting, material removal, packaging, palletizing and spot welding.
About Yaskawa Drives & Motion
Founded in 1967, the Drives & Motion Division provides industrial control and automation products to markets in the Americas. North American based operations include R&D, design and product engineering and two assembly plants producing inverters, servo motors and custom industrial panels. Yaskawa is the world's largest manufacturer of AC drives and motion control products, including adjustable frequency drives, servo amplifiers, servomotors, machine controllers and motion controllers. Drives and servo systems are applicable to a wide variety of automation tasks in a wide variety of industries. With every new generation of design, products are given more features, more flexibility and more adaptability to more applications.