Yaskawa Motoman Offers STEM Platform for Education and Workforce Development
Dayton, OH — Yaskawa Motoman has released a new STEM Robotics Platform for education and workforce development. A general-purpose platform and a welding education cell are available.

The new STEM Robotics Platform offers a selection of pre-engineered robotic solutions that meet the requirements of secondary educational programs focused on advanced manufacturing and robotics.
The standard configurations and available options provide a package of leading technologies typically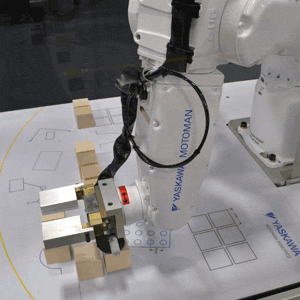 encountered in manufacturing environments, including components provided by the Yaskawa Motoman Education Consortium (YMEC). Educators can purchase a complete package or components to build a custom education system that best fits planned course work and classroom layout.

"We developed the STEM Robotics Platform to provide community colleges, vocational schools and technical colleges with the best possible equipment for teaching industrial robotics," said Erik Nieves, technology director. "Students are excited about robotics. The success of high school robot competitions like FIRST® and Vex make students enthusiastic about robot programming, and each year, growing numbers are looking for opportunities to learn more."

Instructors want course work to be relevant and directly applicable to industry. The best colleges support their local community by preparing students to be successful on Day 1 of their careers as technicians and engineers in factories and other industries. To learn more about Robotics for Education and Workforce Development, visit stem.motoman.com.

Additional education tools are offered, including the Simple Education System (SES) and customizable training programs. SES is a PC-based robot simulator that allows customers to learn to operate and program Motoman® robots in the virtual world while keeping their actual robots in production.

FIRST® is a registered trademark of FIRST® (www.usfirst.org).

About Yaskawa Motoman
Founded in 1989, the Motomon of Yaskawa Motoman Robotics Division, Inc. is a leading robotics company in the Americas. With over 270,000 Motoman® robots installed globally, Yaskawa provides automation products and solutions for virtually every industry and robotic application; including arc welding, assembly, coating, dispensing, material handling, material cutting, material removal, packaging, palletizing and spot welding. For more information please visit our website at www.motoman.com or call 937.847.6200.

About the Yaskawa Motoman Education Consortium (YMEC)
YMEC is a partnership among the best-in-class providers of, not the robot, but peripherals, vision systems, enclosures, etc. By bringing together Cognex, Schunk, Schmalz, Miller, National Instruments and Visual Components, YMEC assures that training will be relevant and directly applicable to the industry.