Yaskawa Motoman Launches Updates to ArcWorld 50 Series Workcells for Robotic Welding
Dayton, OH — Built for demanding production environments, the extremely compact ArcWorld® 50 series workcells are affordable, wire-to-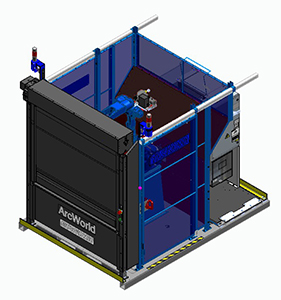 weld solutions that are pre-assembled on a common base. Available in single or dual station configurations, these workcells are equipped with all the automation needed for arc welding.
Each ArcWorld 50 model features an AR1440 welding robot, compact YRC1000 controller with menu-driven arc welding application software, integrated welding package, operator station, one or two powered roll-up door(s), and a total safety environment. Fixed tooling tables, or one or two MH185 headstock(s) offer the flexibility required for high- or low-mix production for small- to medium-sized parts. Several model configurations are available including:
Single station with integrated tooling riser (ArcWorld 50)
Single station with servo-driven MH185 headstock (ArcWorld 50S)
Dual station with fixed tooling (ArcWorld 52)
Dual station with two MH185 headstocks (ArcWorld 52S)
A single large tabletop or two smaller tabletops are available as options.
The high-speed, six-axis AR1440 robot has a 12-kg payload capacity to support a wide variety of torches and sensors. The powerful, compact YRC1000 robot controller features patented coordinated motion between devices. The MH185 headstock positioner has a 185 kg payload overhung 250 mm from the faceplate.
ArcWorld 50 workcells include an intuitive digital welding interface for Miller®, Lincoln® or Fronius® power sources, plus required torch, wire feeder and sensor options. Advanced welding functions, such as weld inspection and process monitoring, can be included as an option. Standard EtherNet/IP connectivity is used to connect most peripheral devices and includes a utility to set-up and troubleshoot connections to the robot.
Each ArcWorld workcell features a total safety environment compliant with ANSI/RIA R15.06-2012 (and other international standards). Powered roll-up doors improve ergonomics and are interlocked with robot operation to safeguard the operator during part load/unload. Safety features include a single point of operator control, dual-channel light curtains and E-stop functionality, safety interlocked gates, integrated speed monitoring and manual brake release for the robot.
A host of pre-engineered, value-added options are available, including isolation transformers, second enabling switch, tip change box, bulk wire delivery, low wire sensor, gas flow sensor, exhaust hood and a stack light.
ArcWorld 50 models are easy to set up and relocate. The space-saving workcell design has a 4,570 x 2,285 mm (15' x 7.5') footprint and fits in a standard 110" trailer. The robot, positioner and safety fence all ship on a common platform, reducing installation and setup time. The controller and power source are shipped attached to the cell base and can be separated for maintenance.
About Yaskawa Motoman
Founded in 1989, the Motoman Robotics Division of Yaskawa America, Inc. is a leading robotics company in the Americas. With over 450,000 Motoman® robots installed globally, Yaskawa provides automation products and solutions for virtually every industry and robotic application; including arc welding, assembly, coating, dispensing, material handling, material cutting, material removal, packaging, palletizing and spot welding.