Yaskawa Motoman Introduces New STEM Platform for Education and Workforce Development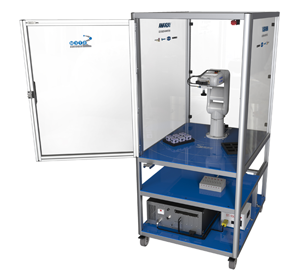 Dayton, OH — Yaskawa Motoman is pleased to introduce its newly designed STEM* Robotics Platform for education, workforce development and industrial robotics certification programs. It is designed specifically for classrooms, robotics labs and robotics training centers.

The new design features an aluminum extruded cart that is modular and lightweight. Its suite of fully integrated academic tools includes Yaskawa Motoman's web-based curriculum, offline modeling and programming tools, and a STEM-aligned activity template. Multiple configurations are available; options include robotic technologies typically encountered in advanced manufacturing environments.

Material handling and welding platforms are available and include robots that are speed-limited for enhanced student safety. The material handling version features a Motoman® MHJ robot; the welding version features a Motoman MH5 robot. Both robots are controlled by the compact FS100 controller that requires a standard 110 VAC outlet. Depending on configuration options, various components – such as vision, grippers, etc. – are provided by Yaskawa Motoman Education Consortium (YMEC) members.

Yaskawa Motoman's STEM Robotics Platform can be purchased as a complete modular package. Alternatively, components may be purchased individually to build a custom platform.

"Actively collaborating and listening to our education community and workforce development partners is crucial to providing high schools, community colleges, vocational schools and technical colleges with the best possible solutions, curriculum and tools for teaching industrial robotics," stated Bob Graff, senior manager for Yaskawa Motoman Education Products. "Yaskawa Motoman's STEM robotics products are vital to schools, industry and ultimately the workforce for students who are pursuing careers in advanced manufacturing."

Instructors want coursework to be relevant and directly applicable to industry. The best colleges support their local community by preparing students to be successful on Day 1 of their careers as technicians and engineers in factories and other industries.

To learn more about Yaskawa Motoman's STEM products and services, visit motoman.com/stem.

*Science, Technology, Engineering and Mathematics

About Yaskawa Motoman
Founded in 1989, the Motoman Robotics Division of Yaskawa America, Inc. is a leading robotics company in the Americas. With over 300,000 Motoman® robots installed globally, Yaskawa provides automation products and solutions for virtually every industry and robotic application; including arc welding, assembly, coating, dispensing, material handling, material cutting, material removal, packaging, palletizing and spot welding.
About the Yaskawa Motoman Education Consortium (YMEC)
YMEC is a partnership among the best-in-class providers of, not only the robot, but peripherals, vision systems, enclosures, etc. By bringing together Cognex, Schunk, Schmalz and Miller, YMEC assures that training will be relevant and directly applicable to the industry.