Yaskawa Motoman Introduces MotoMini: The Smallest and Lightest Weight Six-Axis Robot in the Industry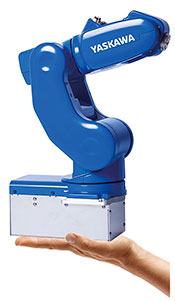 Dayton, OH — Offering superior, high-speed performance, the MotoMini is the smallest and lightest weight six-axis robot in the industry.
The MotoMini's 7-kg weight facilitates easy transportation and installation, making it ideal for tabletop-, floor-, ceiling-, tilt- or wall-mount installations, conserving valuable floor space.
Equipped with the highest acceleration in a small-sized robot, MotoMini is 20 percent faster than comparable small robots to reduce cycle time and increase production output.
The robot's 0.5 kg payload supports a unique variety of tooling and sensors to fulfill diverse project needs. It is ideal for applications such as assembly, dispensing, inspection, kitting, machine tending, material handling, packaging, parts feeding, sorting and STEM Education.
The ultra-compact design enables installation in factories with high density layouts, and the compact footprint (191 x 124 mm) allows the robot to be mounted close to workpieces and other machinery in existing lines or cells.
Cables and air lines are routed through the robot base to upper arm to increase cable life, enhance safety and reduce teaching time. A single power and control cable reduces wiring time and improves cable reliability. And, the MotoMini features an extremely quiet operation with less than 65 dB (with maximum load and speed).
The MotoMini is controlled by Yaskawa's new ultra-compact YRC1000micro robot controller, which can be installed vertically, horizontally, or mounted in a standard 19" equipment rack.
MotoMini received the 2017 Nikkei Superior Products and Services Award.
About Yaskawa Motoman
Founded in 1989, the Motoman Robotics Division of Yaskawa America, Inc. is a leading robotics company in the Americas. With over 400,000 Motoman® robots installed globally, Yaskawa provides automation products and solutions for virtually every industry and robotic application; including arc welding, assembly, coating, dispensing, material handling, material cutting, material removal, packaging, palletizing and spot welding. For more information please visit our website.