Yaskawa Motoman Introduces MH900 Heavy-Duty Robot
Dayton, OH — Providing superior performance for high payload applications, the heavy-duty, large reach MH900 robot is the latest addition to Yas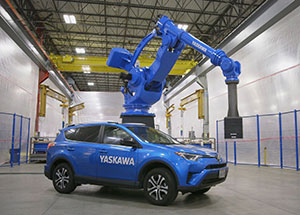 kawa's line of material handling robots.
The six-axis MH900 robot features a 900 kg payload capacity, 4,683 mm horizontal reach and 6,209 mm vertical reach. Its parallel-link construction provides strength, rigidity and stabilization for high moment of inertia loads (2,200 kg-m2).
It can easily accommodate a range of large, heavy components, such as car and truck frames, agriculture equipment and skid-loads of bricks and other hefty objects. It is also ideal for "jigless" applications where the robot positions a part for processing by other robots. Its wide range of motion allows product to be moved between workstations that are several meters in distance.
"The size, speed and payload of the MH900 robot makes complex heavy-payload applications a reality without having to employ complicated, custom machinery to perform the same task," said Dean Elkins, Yaskawa Motoman's Segment Leader of Material Handling. "Its heavy-duty design easily reorients parts, providing the flexibility that conveyors and hoists do not have."
The MH900 is equipped with heavy-duty bearings for smooth arm rotation and thru-arm utilities to reduce interference, increase cable life, enhance safety and reduce teaching time.
Use of Yaskawa's material handling robots can offer tremendous gains in productivity and efficiency for advanced manufacturing operations.
The powerful DX200 robot controller features patented multiple robot control technology to easily handle multiple tasks and control up to eight robots (72 axes). The DX200 has been designed to improve process capability, reduce energy usage, and improve maintainability and safety. An enhanced Functional Safety Unit (FSU) provides control-reliable zone and tool position monitoring, standstill monitoring and speed limiting. This can reduce costs for safeguarding hardware, and it provides new capabilities such as collaborative tasks. It is compliant to ANSI/RIA R15.06-2012 and other relevant ISO and CSA safety standards.
About Yaskawa Motoman
Founded in 1989, the Motoman Robotics Division of Yaskawa America, Inc. is a leading robotics company in the Americas. With over 400,000 Motoman® robots installed globally, Yaskawa provides automation products and solutions for virtually every industry and robotic application; including arc welding, assembly, coating, dispensing, material handling, material cutting, material removal, packaging, palletizing and spot welding. For more information please visit our website.