Yaskawa Motoman Introduces MH280 II Robot for Machine Tending Applications
Dayton, OH - The heavy-payload of the powerful, new MH280 II robot makes it ideal for machine tending, which is one of the most common robotics applications today. With its increased payload, moment and inertia ratings, this model can also be used in material handling and press tending applications.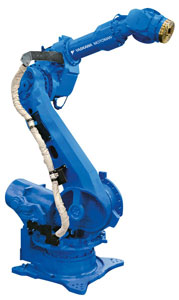 From boring to milling to grinding, the MH280 II can help improve product quality by removing inconsistencies of a manual process and deliver cost-saving benefits to metal, polymer, ceramic and composite manufacturers. It is also ideal for "jigless" applications where the robot positions parts for processing by other robots, or when two robots handle a single part.
Its streamlined upper arm design allows easier reach into confined spaces, improving application flexibility. The six-axis MH280 II has a 280 kg payload, a 2,446 mm horizontal reach and a 2,962 mm vertical reach.
Its large work envelope extends behind the robot, providing a wider range of motion which can increase the number of operations in a single cell and accommodating a wide range of big, heavy parts.
The MH280 II robot uses the dynamic DX200 controller that includes patented multiple robot control technology to easily handle multiple tasks and control up to eight robots (72 axes), I/O devices and communication protocols. Featuring a robust PC architecture with unmatched memory capacity, the DX200 uses a Windows® CE programming pendant with color touch screen.

The energy-saving DX200 controller features faster processing speeds for smoother interpolation, advanced robot arm motion, built-in collision avoidance, quicker I/O response and accelerated Ethernet communication. Its extensive I/O suite includes integral PLC and HMI pendant displays, 4,096 I/O and a graphical ladder editor that can provide system level control. The DX200 supports all major fieldbus networks. It is compliant to ANSI/RIA R15.06-2012 and other relevant ISO and CSA safety standards.
About Yaskawa Motoman
Founded in 1989, the Motoman Robotics Division of Yaskawa America, Inc. is a leading robotics company in the Americas. With over 300,000 Motoman® robots installed globally, Yaskawa provides automation products and solutions for virtually every industry and robotic application; including arc welding, assembly, coating, dispensing, material handling, material cutting, material removal, packaging, palletizing and spot welding. For more information please visit our website at www.motoman.com or call 937.847.6200.