Yaskawa Motoman Introduces MC2000 "Master Cut" Robot: Offers Superior Path Accuracy for Laser Cutting Applications
Dayton, OH — The new Motoman® MC2000 "Master Cut" robot is designed with high rigidity and precision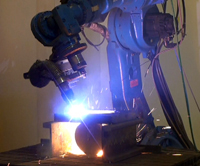 drives to provide superior path accuracy for laser cutting small holes and sharp corners. Path accuracy can be within 0.1 mm, depending on the application.

Cutting of shapes or profiles is easy using Formcut software which automatically generates the ideal path based on user-specified geometry. Circle, rectangle, ellipse, pentagon and hexagon shapes are supported with easy definition of shape and size rotation from a single programmed point. The cut motion start and overlap, robot speed, timing options and corner radii are all defined in a single cut.

The MC2000 features a 50 kg (110.3 lb) payload, ideal for a Remote Laser Welding head. When used with a standard welding or cutting laser head, the MC2000 offers higher path accuracy. This robot has a 2,038 mm (80.2") horizontal reach, a 3,165 mm (124.6") vertical reach and a ±0.07 mm (0.003") repeatability. It is floor-mounted and has brakes on all axes.

In addition to material cutting, the six-axis MC2000 can be used for laser welding and dispensing applications. Proportional analog generates a control signal corresponding to the speed of the robot. When used with dispensing equipment flow controls, a uniform bead is produced on contoured parts. The signal is available as an analog voltage or on a fieldbus network.

The MC2000 uses the dynamic Motoman DX100 controller that incorporates patented multiple robot control technology to easily handle multiple tasks and control up to eight robots (72 axes), I/O devices and communication protocols. Featuring a robust PC architecture with unmatched memory capacity, the DX100 uses a Windows® CE programming pendant with color touch screen. The energy-saving DX100 controller features faster processing speeds for smoother interpolation, advanced robot arm motion, built-in collision avoidance, quicker I/O response and accelerated Ethernet communication. Its extensive I/O suite includes integral PLC and HMI pendant displays, 2,048 I/O and a graphical ladder editor that can provide system level control. The DX100 controller supports all major fieldbus networks. It is compliant to ANSI/RIA R15.06-1999 and other relevant ISO and CSA safety standards.

The MC2000 robot will be introduced at IMTS 2012 (September 10, 2012 | Chicago).

About Motoman Robotics
Founded in 1989, the Motoman Robotics Division of Yaskawa America, Inc. is a leading robotics company in the Americas. With over 250,000 Motoman® robots installed globally, Yaskawa provides automation products and solutions for virtually every industry and robotic application; including arc welding, assembly, coating, dispensing, material handling, material cutting, material removal, packaging, palletizing and spot welding. For more information please visit our website at www.motoman.com or call 937.847.6200.