Yaskawa Motoman GP-Series Robots Provide High-Speed Handling to Boost Productivity
Dayton, OH — Ideal for high-speed assembly and handling applications, the new GP-series robots are fast, compact and efficient. Available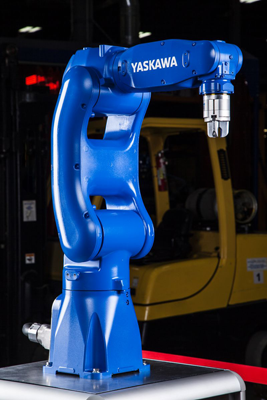 now in three models – GP7, GP8 and GP12 – these six-axis robots offer the highest payload, fastest speed and highest wrist allowable moment in its class.
The GP-series robots offer improved acceleration/deceleration control for all robot positions resulting in overall improved productivity. The small footprint, slim arm design allows for minimum installation space and minimizes interference with peripheral devices. This enables the GP-series robots to be placed in close proximity to workpieces and other robots to create flexible, high-density layouts. Installation is quick and efficient. A single cable is all that is needed to connect the manipulator to the controller, resulting in easy setup and reduced expenses for maintenance and spare parts inventory.
The fast and precise GP7 and GP8 robots are ideal for high-volume assembly, handling and packaging processes. Axis speeds have been increased by up to 39%, increased maximum reach allows operation in wider work areas and the slim arm design allows these robots to delve deeply into the workspace. Both models feature an IP67 washdown rating with an easy-to-clean surface that can resist dust and coolants, making them ideal for use in sanitary or harsh environments. As an option, the manipulator cable can be connected on the bottom of the robot (as opposed to the side) to reduce interference with walls. The GP7 offers a 7 kg payload capacity, 927 mm horizontal reach and 1,693 mm vertical reach. The GP8 offers an 8 kg payload capacity, 727 mm horizontal reach and 1,312 mm vertical reach.
The GP12 robot offers a higher 12-kg payload capacity and its axis speeds have been increased up to 15% for increased productivity. It features a 1,440 mm horizontal reach and 2,511 vertical reach, as well as an IP67-rated wrist and IP54 body (IP65 optional). Cables and utilities are routed through its hollow arm structure eliminating cable interference.
All three models feature easy maintenance including a data saving feature that permits the robot's wire harness to be replaced without having to connect it to a battery. All models can be floor-, ceiling- or wall-mounted.
The GP-series robots are controlled by Yaskawa's new high-performance YRC1000 controller that is built to a global standard and does not require a transformer for input voltages ranging from 380VAC to 480VAC. The YRC1000 is highly compact (598 W x 490 H x 427 D mm), resulting in reduced space requirements. Its I/O communication speed is improved by as much as 50% for improved work efficiency and a single controller-to-robot cable improves cable reliability. The improved programming pendant design features enhanced ergonomics and lighter weight.
The GP8 robot will be highlighted at Automate 2017, April 3-6 at McCormick Place, Chicago, IL in booth #1630.
About Yaskawa Motoman
Founded in 1989, the Motoman Robotics Division of Yaskawa America, Inc. is a leading robotics company in the Americas. With over 360,000 Motoman® robots installed globally, Yaskawa provides automation products and solutions for virtually every industry and robotic application; including arc welding, assembly, coating, dispensing, material handling, material cutting, material removal, packaging, palletizing and spot welding. For more information please visit our website or call 937.847.6200.