Yaskawa Motoman Demonstrates Career Path Opportunities to Students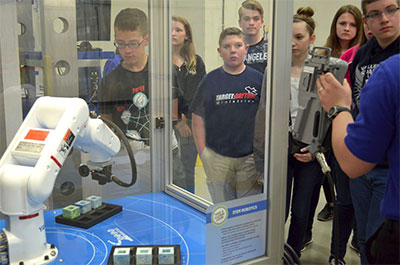 Dayton, OH — To celebrate National Robotics Week, Yaskawa Motoman invited student groups to take facility tours and speak with automation professionals about future job opportunities. Attendees also had the opportunity to see live robotics demonstrations.
Yaskawa Motoman hosted over 350 students from local schools and career centers, including: Bishop Leibold School, Brookville Intermediate School, Cincinnati Hill Christian Academy, Collins Career Technical Center, Dayton Early College Academy, Grant Career Center, Horizon Science Academy Dayton High School, Middletown High School, Monroe Junior and Senior High Schools, Temple Christian School, Thurgood Marshall High School, Trenton High School, Valley View Local Schools and West Carrollton High School.
National Robotics Week was instituted by Congress as the second full week of April every year. 2016 marks the seventh year for National Robotics Week, and its stated purpose is to recognize robotics as a key technology for our nation's economy and, more importantly, to foster interest in the STEM (Science, Technology, Engineering and Mathematics) disciplines among students.
"National Robotics Week provides us with yet another opportunity to share why STEM robotics education is vital to workforce development," shared Bob Graff, senior sales manager, education. "During this event, students can learn about industrial robotics and the many career path opportunities that are available, and we are encouraged by their excitement and the interest they've shown."
Yaskawa Motoman is dedicated to inspiring students to become interested in STEM courses and careers in robotics. As job opportunities in this field continue to grow, pursuing that educational path has enormous value and impact for not only a student's career but also the United States.
About Yaskawa Motoman
Founded in 1989, the Motoman Robotics Division of Yaskawa America, Inc. is a leading robotics company in the Americas. With over 300,000 Motoman® robots installed globally, Yaskawa provides automation products and solutions for virtually every industry and robotic application; including arc welding, assembly, coating, dispensing, material handling, material cutting, material removal, packaging, palletizing and spot welding.