Yaskawa Motoman Celebrates 30-year Anniversary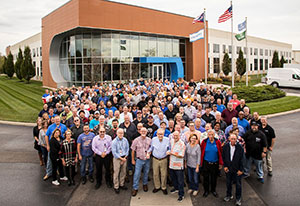 Dayton, OH — The Motoman Robotics Division of Yaskawa America, Inc. (Yaskawa Motoman), a leading robotics company in the Americas, recently celebrated its 30th anniversary.
Previously known as Motoman, Inc., the company was incorporated on July 18, 1989 as a 50/50 joint venture between Hobart Brothers Company and Yaskawa Electric America, and officially began operations on August 1, 1989. In 1994, Motoman Inc. became a wholly-owned subsidiary of Yaskawa Electric Corporation (Kitakyushu, Japan), a worldwide leader in mechatronics and robots.
The company started with just 59 employees and now has nearly 700 employees serving from 11 strategically placed facilities throughout the Americas. Employees are committed to complete customer satisfaction and remain dedicated to delivering high quality innovative robotic solutions that help customers and partners compete globally. Yaskawa Motoman is also committed to supporting the nation's STEM initiatives and promoting the use of robotics for education and workforce development.
"This is an incredible milestone for our company," offered Steve Barhorst, Yaskawa Motoman's president and COO. "The hard work and dedication of talented team members has enabled us to constantly push the boundaries of innovation and provide the highest level of customer satisfaction in the automation industry. I'm very proud of our accomplishments over the past 30 years and look forward to the development of new products and technology."
Yaskawa Motoman's headquarters is located in Dayton, Ohio. Additional facilities are located in Detroit, Michigan; Los Angeles, California; Austin, Texas; Birmingham, Alabama; Canada (Mississauga, Ontario and Pointe-Claire, Quebec); Mexico (Aguascalientes, Apodaca – N.L C.P. and Queretaro); and Brazil (Diadema – São Paulo).
In celebration, Yaskawa Motoman recently held an internal event with current and past employees to recognize their 30-year anniversary.
About Yaskawa Motoman
Founded in 1989, the Motoman Robotics Division of Yaskawa America, Inc. is a leading robotics company in the Americas. With over 450,000 Motoman® robots installed globally, Yaskawa provides automation products and solutions for virtually every industry and robotic application; including arc welding, assembly, coating, dispensing, material handling, material cutting, material removal, packaging, palletizing and spot welding.