Yaskawa Motoman AR3120 Arc Welding Robot Offers Longest Reach for Long or Wide Weldments
Dayton, OH — Offering an extra-long wrist range for improved application flexibility, the new extended reach six-axis AR3120 robot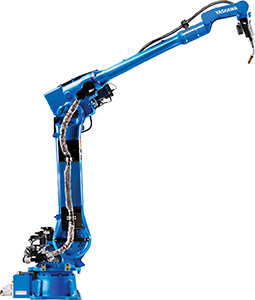 achieves unrivaled arc welding performance. Featuring an expansive 3,124 mm horizontal reach and a 5,622 mm vertical reach, the AR3120 is the longest reach, standard arc welding robot available.
Joining the recently released AR700, AR900, AR1440, AR1730 and AR2010 arc welding robot models, the powerful and efficient AR3120 robot optimizes weld quality and product throughput. With the highest payload, fastest axis speeds and top wrist allowable moment in its class, the AR3120 is ideal for use on agriculture equipment, construction machinery or automotive frames.
Perfectly suited for use in high-density layouts with multiple robots working in close proximity, the AR3120 robot has a slim profile that features a streamlined arm design for reduced interference, facilitating access to parts in tight spaces. A 20 kg payload capacity supports a wide range of motorized torches and sensors, and a symmetric wrist profile with impressive range provides equal torch access to both side of the part. An optimized feeder mounting area on the arm reduces equipment interference.
Thru-arm routing for cabling, hoses and sensor wires is provided by the large 50 mm thru-hole, allowing ample space to minimize cable snagging and wear. Similarly, the minimal protrusion from the U-axis, along with the internal S-axis routing, prolong cable life and maximize part access.
Installation is quick and efficient. A new robot harness design improves diagnostics and maintenance, and a single cable connects the manipulator to the controller, resulting in easy setup and reduced expenses.
The AR3120 robot can be floor-, wall-, tilt- or ceiling-mounted, and it is controlled by the high-performance YRC1000 controller that is built to a global standard and does not require a transformer for input voltages ranging from 380VAC to 480VAC. With a highly-compact cabinet (598 W x 490 H x 427 D mm), the YRC1000 utilizes a lightweight teach pendant with intuitive programming.
About Yaskawa Motoman
Founded in 1989, the Motoman Robotics Division of Yaskawa America, Inc. is a leading robotics company in the Americas. With over 400,000 Motoman® robots installed globally, Yaskawa provides automation products and solutions for virtually every industry and robotic application; including arc welding, assembly, coating, dispensing, material handling, material cutting, material removal, packaging, palletizing and spot welding.