Yaskawa Motoman Announces New Quick Ship Program for Pre-Configured Workcells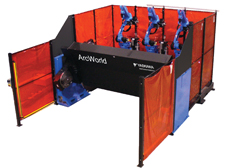 DAYTON, OH — A new Quick Ship Program expedites delivery of Yaskawa Motoman's most popular pre-configured ArcWorld® and FabWorld® robotic solutions. Five configurations are available with
a targeted delivery of eight weeks after an order is received.

ArcWorlds and FabWorlds are fully integrated robotic welding solutions that include the robot(s), welding equipment, part positioner and workcell safeguarding. Quick Ship Program configurations include:

ArcWorld IV-6200(SL or XHD) – Trunnion workcells with dual robots. AWIV-6200SL is a slim-line cell for automotive Tier 1 and light construction parts; AWIV-6200XHD is a heavy-duty cell with a1,200 kg payload for agriculture and construction machinery.
ArcWorld 1200 – Turntable workcell with dual robots. Suited for general fabrication, automotive Tier 2 or sub-assemblies for higher volume manufacturers.
ArcWorld II-500 – An economical general purpose workcell for job shops, general fabrication or automotive Tier 2.
FabWorld – Large scale workcell designed for agriculture/construction machinery parts with an extended-reach robot and 3,000 kg payload positioners.
"We are pleased to release quick ship workcells to complement our broad offering of standard and custom robotic welding systems," said Andy Glaser, vice president of sales. "The advantage of the Quick Ship Program is that we can offer customers more choices when planning for their short-term manufacturing capacity."

Yaskawa Motoman offers the widest range of standardized workcells for arc welding applications.
Additional quick ship configurations may be released in the future based on demand.

About Yaskawa Motoman
Founded in 1989, the Motoman Robotics Division of Yaskawa America, Inc. is a leading robotics company in the Americas. With over 250,000 Motoman® robots installed globally, Yaskawa provides automation products and solutions for virtually every industry and robotic application; including arc welding, assembly, coating, dispensing, material handling, material cutting, material removal, packaging, palletizing and spot welding.