Yaskawa Motoman and Nihon Shoryoku Kikai Announce License Agreement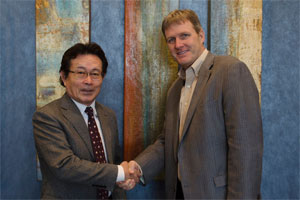 Dayton, OH - The Motoman Robotics Division of Yaskawa America, Inc. (Yaskawa Motoman) has entered into a License Agreement with Nihon Shoryoku Kikai Co., Ltd (NSK).
Under the terms of this agreement, Yaskawa Motoman will have exclusive rights in the Americas for the technology, manufacturing and sales of NSK's ultrasonic cutting and deburring machines with 3-D profiling.
This patented cutting technology replaces conventional trimming methods such as waterjet cutting and laser cutting for non-metallic materials including plastics, fiberglass and non-woven fabrics. The technology is ideal for automotive and recreational vehicle part manufacturing such as:
Automotive interior trim including headliners, carpet, instrument panels, door panels, rear deck
Injection molded parts for motorcycles, ATVs, snowmobiles
Semi-truck fairings, boats and seating
"We are pleased to announce this multi-year agreement with Yaskawa Motoman for licensing NSK's patented ultrasonic cutting and trimming technology in North and South America," stated Norio Tanaka, President of NSK. "We have been working with Yaskawa Electric Corporation in Asia for many years, and this represents a natural geographic expansion for our product line."
Ultrasonic cutting offers a unique, environmentally-conscious approach with numerous advantages including:
Waterless operation and clean up
Quiet operation
Energy efficiency
Limited dust
Lower consumable costs
Yaskawa Motoman's trimming workcells will feature a high-speed Motoman® robot fully integrated with NSK's ultrasonic cutting tool and milling head. The cutting tool features a HSS carbide blade vibrating at 40 kHz. The workcells will be available in a "part-to-process" or "process-to-part" configuration.
"Our partnership with NSK will expand our application capabilities in automotive tier and other non-metal manufacturing environments," stated Steve Barhorst, President and COO of Yaskawa Motoman. "Our goal is to provide solutions that are environmentally friendly, as well as increase productivity and improve product quality. NSK's ultrasonic cutting technology integrated with a Motoman robot will deliver outstanding ROI to our customers."
Learn more about our trimming cells at WardsAuto Interiors Conference in Detroit, MI (May 13, 2015).
About Yaskawa Motoman
Founded in 1989, the Motoman Robotics Division of Yaskawa America, Inc. is a leading robotics company in the Americas. With over 300,000 Motoman® robots installed globally, Yaskawa provides automation products and solutions for virtually every industry and robotic application; including arc welding, assembly, coating, dispensing, material handling, material cutting, material removal, packaging, palletizing and spot welding.
About NSK
Nihon Shoryoku Kikai Co., Ltd. (NSK) supplies deburring and ultrasonic trimming machines for complicated 3-D surface structures. Headquartered in Gunma, NSK was established in 1981 and owns several patent registrations in the U.S., Canada and Mexico.