Yaskawa Motoman Adds GP25 Model to High-Speed GP-Series Robot Line
Dayton, OH — The efficient, high-speed Motoman® GP25 robot is a new, compact robot that is ideal for assembly, dispensing, handling,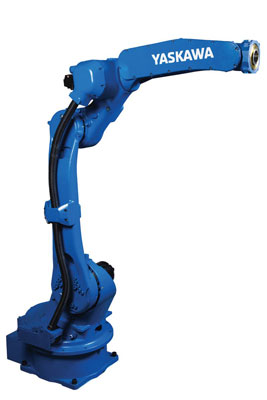 material removal and packaging applications. All axis speeds have been increased, some over 40%, surpassing other robots in its class and delivering increased productivity. This six-axis model is the fourth in the GP-series line of robots.
Its small footprint allows for minimum installation space and minimizes interference with peripheral devices. This allows it to be placed in close proximity to workpieces and other robots to create flexible, high-density layouts.
The slim arm design and broad working envelope allow operation in wider work areas with the ability to delve deeply into the workspace. The GP25 robot offers minimum acceleration/deceleration times for all robot positions resulting in overall high performance. Its high wrist allowable moment provides accurate and repeatable handing.
Installation is quick and efficient. A single cable connects the manipulator to the controller, resulting in easy setup and reduced expenses for maintenance and spare parts inventory.
The GP25 features an IP67-rated wrist and an IP54 body. An XP (eXtra Protection) package that increases the body protection rating to IP65 is available. This model offers a 25 kg payload capacity, 1,730 mm horizontal reach and 3,089 mm vertical reach. It can be floor-, ceiling- or wall-mounted.
GP-series robots are controlled by Yaskawa's new high-performance YRC1000 controller that is built to a global standard and does not require a transformer for input voltages ranging from 380VAC to 480VAC.
The YRC1000 is highly compact (598 W x 490 H x 427 D mm), resulting in reduced space requirements. Its I/O communication speed is improved by as much as 50% for improved work efficiency and a single controller-to-robot cable improves cable reliability. The improved programming pendant design features enhanced ergonomics and lighter weight.
About Yaskawa Motoman
Founded in 1989, the Motoman Robotics Division of Yaskawa America, Inc. is a leading robotics company in the Americas. With over 360,000 Motoman® robots installed globally, Yaskawa provides automation products and solutions for virtually every industry and robotic application; including arc welding, assembly, coating, dispensing, material handling, material cutting, material removal, packaging, palletizing and spot welding.