Xtium Frame Grabbers
rong>The new Xtium™ frame grabber series uses high-speed PCIe Gen2 image acquisition over Camera Link®, Camera Link HS™, and other emerging interfaces

Teledyne DALSA, a Teledyne Technologies company and a global leader in machine vision technology, today unveiled the Xtium-CL PX4, the first member of a new series of frame grabbers. The Xtium series is engineered to meet the ever-increasing image resolution and faster frame rates of today's camera technology. In addition to PCIe Gen 2.0 x4 and Camera Link®, upcoming models will support Camera Link HS™ as well as other popular interface standards on a PCIe Gen 2.0 x8 platform.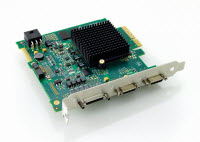 The new Xtium series delivers higher bandwidth to sustain Camera Link 80-Bit modes over longer cable distances and supports a wide variety of area and line scan color and monochrome cameras, all in a compact, single slot solution.

"The Xtium series has been engineered to meet the emerging demands of high speed, high bandwidth cameras," said Inder Kohli, Teledyne DALSA Product Manager. "We have designed a compact, flexible image acquisition and processing platform that supports multiple interfaces and delivers two times the sustained host transfer bandwidth across extended cable lengths."

The newly engineered, on-board, Data Transfer Engine (DTE) produces maximum bandwidth without the need for specialized motherboards or chipsets. By enabling maximum sustained throughput and ready-to-use image data, the Xtium-CL PX4 minimizes CPU usage and improves processing times for host applications. In addition, the Xtium-CL PX4 has been engineered with enhanced memory architecture allowing it to handle different sensor tap topologies while sustaining color decoding at the maximum frame/line rate.

Key Features of the Xtium-CL PX4


Supports PCI Express Rev 2.0 x4 or higher, backwards compatible with PCIe Rev 1.10 slots
Camera Link Rev 2.0 (Base PoCL, Medium or Full PoCL cameras)
Delivers 2x performance on host transfers
Up to 512MB of high-speed image memory
Single slot solution with reconfigurable camera control and general purpose input/outputs
Supported by field proven Sapera™ Vision SDK and Sapera CamExpert utility
Free Sapera Standard tools run-time license includes advanced image processing and analysis functions
Supports Microsoft® Windows® 7, Windows 8 32/64-bit and WOW64 ready
Product Details & Availability
The Xtium-CL PX4 has been designed to support the machine vision industry's leading interfaces. The Xtium-CL PX4 is available in Q3 2013. For more detailed product information, visit www.teledynedalsa.com/Xtium or contact your regional sales representative.