XIMEA's xiQ USB3 Named Hot Product of 2012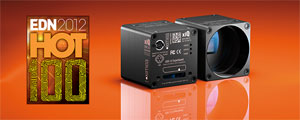 XIMEA today announced that EDN has named xiQ USB3 Vision camera as one of the "100 Hot Products of 2012." The 2012 EDN Hot 100 highlights the electronics industry's most significant products of the year based on innovation, significance, usefulness, and popularity.
XIMEA's xiQ series USB 3.0 SuperSpeed data interface delivers up to 5 Gbps of data, enabling image transfers of up to 400 megapixels per second (Mpix/s). Despite its small size - measuring just 26.4 x 26.4 x 19.1 mm and weighing a mere 26 g - the xiQ series includes all the standard I/O and features demanded by industrial imaging customers. xiQ series cameras include a growing variety of high-grade CMOS sensors with Global Shutter and resolutions ranging from VGA to 4 Mpix, frame rates up to 600 fps, and improved quantum efficiency (QE) in the visible and NIR spectral ranges. A high dynamic range (HDR) model offers maximum sensitivity with a dynamic range of up to 100 dB.
Connecting the xiQ series cameras to industrial data processing systems, OEM equipment, and PCs is greatly simplified with single board PCB and inclusion of opto-isolated trigger input and illuminator control output, as well as on-board non-volatile memory for user settings and custom data. XIMEA's xiQ series cameras only consume between 1W to 1.8W, easing the power and thermal management design challenges for OEMs and end users alike. And like all XIMEA's industrial cameras, each xiQ series ships with application programming interfaces (APIs) for 30 of the most common image processing software, including programs from Cognex, Matrox, National Instruments, MVTec, and many more. Linux support is another bonus.
"We're very proud of our development time," says Max Larin, CEO and head of product development and engineering at XIMEA. "Empowered with modern design methodologies and tools, XIMEA's designers developed the xiQ family in only 100 days while still achieving record data throughput performance in an unbelievably compact housing. It also helps that XIMEA is an active member of USB3 Vision Standard Committee, which ensures that all future xiQ series cameras will comply with USB 3 Vision standard."
"It's always a fun and enlightening challenge for the EDN editors to select the year's Hot 100 products, which has been an annual tradition at EDN since 1993. This year's selection not only reflects some technology trends that have been in place for a while, but also highlights some new trends that are just emerging, as well as a unique product or two that is in a class of its own," said Rich Pell, Executive and Chief Technical Editor, EDN.
The complete list of EDN's Hot 100 products can be found online at http://www.edn.com/electronics-products/other/4401457/EDN-Hot-100-products-of-2012 or within the December 14, 2012 issue of EDN Magazine.
About XIMEA
For more than 20 years, XIMEA GmbH's designers have created the smartest, most compact industrial cameras for machine vision applications in motion control, assembly, robotics, and industrial inspection and process control, as well as cutting-edge cameras for life-science, security, and defense applications.