World's Smallest USB 3.0 Industrial Camera Based on Cypress EZ-USB(R) FX3 Controller
rong>MQ Series Industrial Camera Combines Cypress's Flexible USB Controller with XIMEA's Industrial Camera Design Expertise to Deliver Market's Smallest, Fastest USB Camera

MUNSTER, Germany & SAN JOSE, Calif. -- XIMEA GmbH has set a new benchmark for high-speed industrial cameras with the introduction of the MQ series USB 3.0 SuperSpeed industrial machine vision cameras based on Cypress's CY -0.19% EZ-USB(R) FX3 USB 3.0 controller.

With its USB 3.0 SuperSpeed data interface, XIMEA's MQ series is capable of generating 5 Gbps, or the equivalent of 400 megapixels per second (Megapixels/s). Based on XIMEA's more than 20 years' experience building ultra-compact cameras, the MQ series offers the latest, highest-grade CMOS sensors with global shutter and improved quantum efficiency in the visible and NIR spectral ranges, resolutions from VGA to 4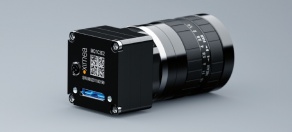 Megapixels, and frame rates of up to 600 fps. The MQ series also offers opto-isolated trigger input and lighting synchronization output, on-board non-volatile memory for user settings and custom data, and an HDR model with dynamic range of up to 100 dB. XIMEA's MQ series cameras measure just 26.4 x 26.4 x 19.1 mm, weigh 26g, and consume between 1W to 1.8W, making the MQ series the smallest industrial USB 3.0 camera on the market. And like all XIMEA's industrial cameras, each MQ series ships with APIs for the most common image processing software, including programs from Cognex, Matrox, National Instruments, MVTec, and many more. Prices for the MQ series start at EUR189 for the 1.3-Megapixel version.

USB 3.0 offers the same ease of use and flexibility that users have come to expect from USB 2.0 devices, but at a much higher data rate of 5 Gbps compared to the USB 2.0's 480 Mbps. USB 3.0 also offers better power management (20 percent of USB 2.0). Cypress expects its new FX3 controller to enable USB 3.0 adoption across a variety of platforms, just as the Cypress FX2 controller did for USB 2.0. Cypress's well-established USB portfolio includes enCoRe(TM), EZ-USB(R) USB controllers, West Bridge(R) peripheral controllers, and WirelessUSB(TM) 2.4-GHz radios.

"We're very proud of our development time," says Max Larin, CEO and head of product development and engineering at XIMEA. "Empowered with modern design methodologies and tools, as well as working with Cypress's FX3 development team, XIMEA's designers developed the MQ family in only 100 days while still achieving record data throughput performance in an unbelievably compact housing. It also helped that XIMEA is an active member of USB3 Vision Standard Committee, which will help us to ensure that all future MQ series cameras continue to comply with the emerging USB 3.0 standard." XIMEA's MQ series camera based on Cypress's FX3 controller follows XIMEA's MU series of ultracompact board-level industrial cameras based on Cypress's FX2 USB 2.0 controller.

"The XIMEA MQ series cameras are a testament to the type of high-quality video achievable thanks to the bandwidth provided by USB 3.0," said Mark Fu, senior director of Cypress's USB 3.0 Business Unit. "The FX3 was designed to be flexible, programmable, and to expedite speed to market for USB 3.0 designers. At this time of rapid USB 3.0 adoption, the XIMEA engineers were able to take advantage of these features, and designed their MQ series cameras with remarkable speed."

About Cypress

Cypress delivers high-performance, mixed-signal, programmable solutions that provide customers with rapid time-to-market and exceptional system value. Cypress offerings include the flagship PSoC(R) programmable system-on-chip families and derivatives such as CapSense(R) touch sensing and TrueTouch(TM) solutions for touchscreens. Cypress is the world leader in USB controllers, including the high-performance West Bridge(R) solution that enhances connectivity and performance in multimedia handsets. Cypress is also a leader in high-performance memories and programmable timing devices. Cypress serves numerous markets including consumer, mobile handsets, computation, data communications, automotive, industrial and military. Cypress trades on the Nasdaq Global Select Market under the ticker symbol CY. Visit Cypress online at www.cypress.com .

About XIMEA

XIMEA GmbH believes that the best industrial, smart, and scientific cameras offer the highest levels of processing power, compatibility, and support at a competitive price. That's why for more than 20 years, XIMEA has designed the smartest, most compact industrial cameras for machine vision applications in motion control, assembly, robotics, and industrial inspection and process control, as well as scientific cameras for life-science, security, and defense applications.