World's first robotic entertainment on the high seas for Royal Caribbean International
Royal Caribbean Cruise Lines, Robotic Arts and ABB Robotics join forces to debut groundbreaking RoboScreen® entertainment system
AUBURN HILLS, Mich. – With the Quantum of the Seas, Royal Caribbean's newest cruise ship, the well-known cruise line operator wanted to do something truly groundbreaking: create a cruise ship environment that was not only fun, but one that could also compete with the best that entertainment meccas like Las Vegas have to offer. And after the ship's official unveiling and inauguration this past November, it is clear the company has succeeded.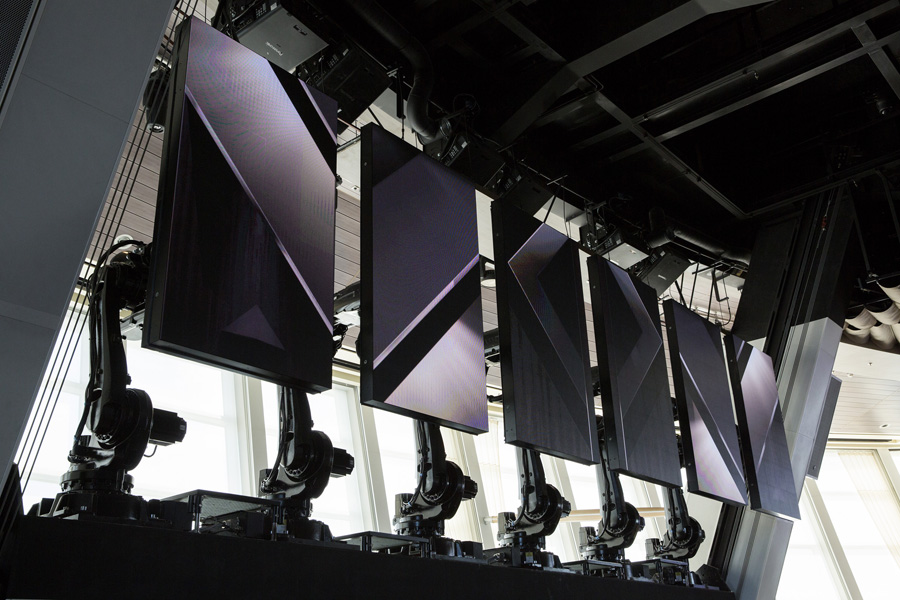 As the first in a line of Quantum Class cruise ships, these "Smartships" are meant to target a younger demographic and are loaded with technology such as indoor skydiving, high speed always on wifi, smartphone app travel management, standing wave surfing, and smart tracking technology that can predict your preferences as you move around the ship.
The signature venue on each ship, however, is Two70°, a multi-level great room named for its magnificent 270-degree panoramic sea views through vast, floor-to-ceiling glass walls spanning almost three decks at the stern of the ship. That same grand vista can be transformed into a gigantic "Vistarama" screen that stretches more than 30 meters long (100 feet) and 6 meters tall (20 feet). With a 12K resolution, it is a breathtaking backdrop to the variety of dynamic entertainment that occurs on the transforming stage in front of it.
And in the center of this entertainment spectacle is the RoboScreen® entertainment system, created by Robotic Arts and featuring six ABB IRB 6620 robots mounted to an 8,200 kilogram (18,000 pound) capacity gantry with custom Daktronics screens affixed to them. This combination of robots and screens allows for previously unattainable styles of entertainment in which the RoboScreens become performers themselves, interacting with the dancers, acrobats and singers to create a fluid and powerful show.
"The RoboScreens transcend all age groups," says Andy Flessas, also known as andyRobot, Creative Director and founder of Robotic Arts. "A lot of what I do is targeted at specific age groups, but on board the Quantum of the Seas, I've seen that everyone from 8 year olds to 88 year olds is transfixed by the robotic performance. They are unlocking this potential that taps into a deep human desire to see futuristic and interesting things."
Video interview with Andy Flessas (aka andyRobot)
Although the RoboScreens have been used in the past for major international touring rock acts such as Bon Jovi, this is the first permanent installation as part of a major performance venue, and the first time they have been used on an oceangoing vessel. While the robots each have 6 axes of motion on their own, when you add in the constant motion of the seas and the cruise ship, the superior motion control built into each and every ABB robot's software and hardware is key to delivering the consistent, reliable and safe results needed to ensure the robots are part of the spectacle without being intrusive.
"As a manufacturer of industrial robots, collaboration both internally and with outside parties is a natural occurrence. But we had never worked with a cruise ship operator before, nor had we worked with ABB's Marine Systems and Solutions business," said Nick Hunt, an ABB Robotics technology manager working closely on the project. "Despite coming from widely disparate disciplines, all of us worked together well realizing that the end goal would be something spectacular. Based on the audience reaction to the system so far, it is clear our band of high tech companies has hit on something special. People have never seen anything like it and often end up simply staring in wonder."
About ABB
ABB is a leader in power and automation technologies that enable utility and industry customers to improve their performance while lowering environmental impact. The ABB Group of companies operates in around 100 countries and employs about 150,000 people.

About ABB Robotics
ABB Robotics is a leading supplier of industrial robots - also providing robot software, peripheral equipment, modular manufacturing cells and service for tasks such as welding, handling, assembly, painting and finishing, picking, packing, palletizing and machine tending. Key markets include automotive, plastics, metal fabrication, foundry, electronics, machine tools, pharmaceutical and food and beverage industries. A strong solutions focus helps manufacturers improve productivity, product quality and worker safety. ABB has installed more than 250,000 robots worldwide.