With the Significant Acceleration in the Use of Robots in U.S. Factories, Patti Engineering is Prepared to Assist
We are hearing about it in the news headlines and we are seeing it on the shop floor - the use of robotics in industrial settings is on the rise. Although industrial robots have been used in factories for decades, advances in vision sensors, gripping systems, and information technology are making robots smarter, easily networked, and immeasurably more useful in a wider range of applications.
As many of our community may already know, some 24 years ago when Patti Engineering was founded, our work focused on the emerging robotics technology in manufacturing. Our first customer was FANUC Robotics. Patti Engineering was contracted by FANUC to work on its customized PLC programs and its proprietary PaintWORKS, Graphic User Interface (GUI) software. Since then, robotic systems and factory automation control systems have continued to play a large role in our continued success.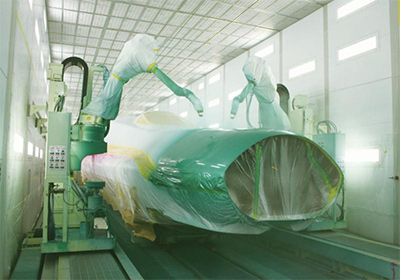 We have been ramping up our robotic capabilities with more training and certification opportunities for our engineers. We are also investing in a robot for our in-house testing and training. Patti Engineering's Electrical Engineer, Brian Parkham, is spearheading our robotic initiatives, using his extensive background in robotics. Our goal is to be prepared to help our customers take advantage of the advancement in robotics which offer some of the best opportunities for manufacturers to sharply improve productivity.
Patti Engineering is a certified robotic integrator for Kawasaki and we just recently became a certified COMAU integrator. In addition to our partner's technology, Patti Engineering has completed many successful projects with ABB Robots, FANUC Robots and KUKA Robots. Our areas of expertise and application experience include:
Assembly
Inspection
Material Handling
Painting
Palletizing
Sealing/Dispensing
Patti Engineering recently joined the Robotic Industries Association (RIA), a not-for-profit trade association dedicated to improving the regional, national and global competitiveness of the North American manufacturing and service sectors through promotion and enhancement of robotics and related automation. We are in the process of pursuing RIA Certification which provides robot integrators with a way to benchmark against industry best practices and allows robot users to develop a baseline for evaluating robot integrators.
"We strive at Patti Engineering to be a trusted resource to our customers, offering solutions rather than offering engineering services at an hourly rate," commented Sam Hoff, CEO, Patti Engineering. "We have seen the benefits of robotics helping our customers improve efficiency and reduce costs."