Wireless Inductive System 2 for Wireless Sensor Connection New Generation with Greater Power and Longer Transmission Distances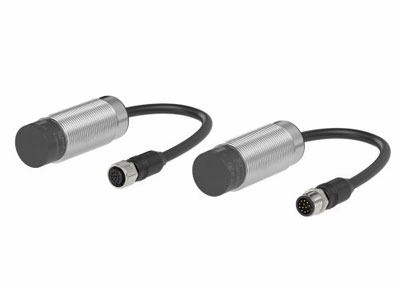 The new WIS 2 (Wireless Inductive System 2) is the ideal way for Pepperl+Fuchs to round off its portfolio for the wireless connection of sensors to moving machine parts with a higher-performance system.
The WIS 2 is used both for signal transmission and for supplying power to the sensors connected to the secondary side, making wear-prone trailing cables and slip rings redundant. The WIS 2 supports ratings of up to 12 W over transmission distances of 0...7 mm compared to the WIS 1 with a maximum of 1.5 W and 0...5 mm, which has been available for years. In addition to the 8-channel design, a streamlined 2-channel variant is now also available for small applications with up to two sensors.
All system variants use a primary and a secondary transmitter, either for two or for eight channels. They come in size M30 in a cylindrical design and fitted with 30 cm cables and M12 connectors as standard. Since the transmitters are not paired, the secondary transmitters are freely interchangeable. As a result, for example, any number of different tool carriers can easily communicate via the same system. Inductive, capacitive, optical or ultrasound models with binary switching output and standard 3-wire connection technology are suitable as sensors. Whereas the 2-channel system uses a space-saving Y-splitter, the 8-channel system has an 8-way connector box with an IP67 degree of protection that can be installed up to 20 m away from the transmitter. Pepperl+Fuchs provides a wide selection of cable lengths and connectors for every application.
The WIS 2 has numerous potential applications in rotary tables, presses and change tools, for object detection on workpiece carriers, on rotation tools, robot gripper arms and all similar devices.