Welding robots increase production of industrial forklifts
Advanced automation through offline programming is the key.
Today's rapidly increasing flow of goods is keeping the order books of industrial forklift manufacturers full. To keep pace with future demands, those manufacturers are intensely working on innovations and new market offerings. This leads to an ever-expanding product portfolio and the need for constant product revisions, optimally serving not only the mass market requirements, but also those of individual customers.
The quality production of forklift vehicles must keep up with these changing requirements. It is vital to continue producing existing models on schedule, but also necessary to incorporate new efficiencies and features into revisions of those models.
The key lies in automating production steps which have historically been done manually. That is why more and more robot systems are performing welding tasks during production of these vehicles.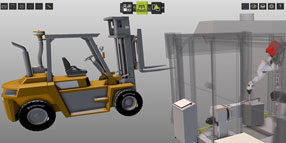 While existing robotic solutions should be used as optimally and continuously as possible, offline programming can make an enormous contribution towards more efficient automation. Using the right software for offline programming of robotic welders is a prime example of this.
Robots can guarantee a consistent welding quality. For example, they can provide an always-perfect angle of inclination, use a consistent and optimal welding speed, and automatically apply the appropriate welding parameters. Compared with manual processes, therefore, robots can meet all the requirements for a weld seam of the highest quality. Additionally, robotics can perform these actions with the absolute repetition and accuracy a person cannot achieve.
Another advantage of the robot: the system can monitor all welding parameters in real time and make any necessary adjustments automatically. And, in combination with camera systems and sensors on the welding system, manufacturers can quickly realize quality and efficiency even on order of small quantities.
These are all convincing arguments for automation of welding tasks in manufacturing industrial forklifts.
Of course, the best welding robot is only as good as its programming. How can you ensure the production order will be optimally fulfilled, for small production batches as well as large ones? And how can you quickly and efficiently reprogram systems for ever-changing workpieces, while minimizing production downtime?
The answers lie in simulation-based offline programming (OLP).
The FASTSUITE team offers you an innovative, meticulously designed-and-executed OLP implementation project. More than our OLP software suite, we provide you comprehensive end-to-end solution—from solution design and customization to installation, to staff training and full production startup—and full service and support beyond.
Take advantage of our experiences and expertise to optimize your welding processes!
Read more in FASTSUITE EXPERTISE.