Weekly Bot Brief on Robotics 12/6/2019
"There is no force on earth more powerful than an idea whose time has come." Victor Hugo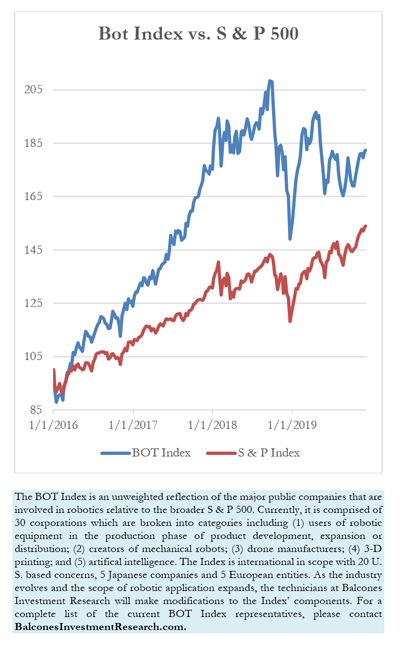 Bot Index Highlights:
Despite the extreme turbulence of the daily market this week, there was not much traction from Friday to Friday for either the broad market or the Bot Index. Both were up less than twenty basis points when the first week of December ended.
Asian companies dominated the best performers for the week. Keyence gained 6.29%, Hiwin Technologies rose 3.84% and OMRON Corp. increased 3.10%. IRobot finally gained some traction, rising a bit over 4%. With the stock currently selling at $45.34 the company's fortunes have declined by one half its mid-July value.
The losers were confined to lower priced issues whose small dollar share declines represented significant percentages. Cyberdyne was the worst single performer for the week, falling 7.86%. Accuray Inc. gave back 6.49% of the prior week's 8.83% increase. Finally, Ekso Bionics, similar to the fate of iRobot, is about half its mid-July number. The company fell another 5.26% this week.
Bots In The News:
IEEE, the world's largest technical professional organization dedicated to advancing technology for humanity, and the IEEE Standards Association (IEEE-SA), today jointly launched and became a founding member of an Open Community for Ethics in Autonomous and Intelligent Systems (OCEANIS). This global forum brings together organizations interested in the development and use of standards as a means to address ethical matters in autonomous and intelligent systems. As the world moves rapidly into unchartered territory using Artificial Intelligence, the creation of consistently applied and understood standards will help to ensure that AI is utilized for humankind's well-being.
Member: American Economic Association, Society of Professional Journalists, United States Press Association. Institute of Chartered Financial Analysts, Robotic Industries Association.
The Bot Brief is a weekly newsletter designed for economists, investment specialists, journalists and academicians. It receives no remuneration from any companies that may from time to time be featured and its commentaries, analysis, opinions and research represent the subjective views of Balcones Investment Research, LLC. Due to the complex and rapidly changing nature of the subject matter, the company makes no assurances as to the absolute accuracy of material presented