Weekly Bot Brief on Robotic Research and Investment Review 8-7-2018
"There is no force on earth more powerful than an idea whose time has come" -Victor Hugo
Weekly Bot Highlights: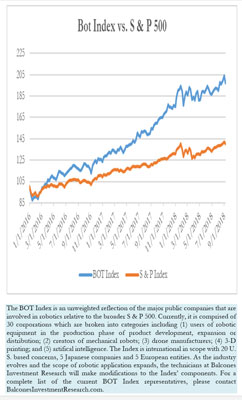 'The market giveth and the market taketh away' or so it seems in the past two weeks of robotic stock trading. After having set a new Bot Index record of 205.06 in the last week of August, the first week of September proved extremely unkind to investors in bot names. The Index slid 3.208%, much worse than the general market's 1.03% drop. The only real positive gainer within the 30-stock composite was Aerovironment who reached an all-time high of $103.98 during the week. For the week AVAV advanced 14.18% on the news that fiscal Q1 2019 had recorded earnings of $.85 per share on revenues of $78 million. These figures significantly exceeded Wall Street's expectations of $.29 per share. Revenues for the quarter rose 127%, profit margins expanded to 42% and backlogs jumped to $157 million.
The Bot Index of thirty companies suffered 16 losers of greater than 3% during the week. Among the worst declines included many of the Asian stocks that the Bot Brief had mentioned in last week's edition perhaps had turned a positive corner from prior weakness. Unfortunately, that was not to be the case as Yaskawa retreated 11.4%, Cyberdyne declined 7.61%, OMRON Corp. slid 6.14%, Hiwin Technologies fell 5.78%, Keyence Corp. dropped 5.6% and finally (we are out of synonyms!) Fanuc wilted (we told you!) another 5%. Other components whose stock fell greater than 5% included:
Ekso Bionics 8.96%
IRobot 8.91%
Immersion Corp. 8.52%
3D Systems 8.50%
Oceaneering Intl. 6.62%
Others that fared poorly included NVIDIA, Intuitive Surgical, Faro Technologies, Accuray, Google and Amazon.
Yet Another Packaged Product Hits the Market:
Two weeks ago, the Bot Brief reported that investment management firms initiated two new exchange traded funds. The Loup Frontier Tech Fund and the ARK Innovator Fund were both featured on the New York Stock Exchange. Joining them this week was a BlackRock offering entitled IShares Robotics and Artificial Intelligence ETF with a symbol of IRBO. The new fund hopes to replicate the holdings and returns of the NYSE FactSet Global Robotics and Artificial Intelligence Index.
Congress and Now the Justice Department to Conduct Investigations on Social Media:
Perhaps contributing to the rather dramatic market retreat in the technology sector this week was testimony by executives from Twitter and Facebook before a Congressional Hearing on Social Media. A variety of tough questions were posed by legislators to the reps from Twitter and Facebook regarding ad revenues, Russian/Chinese interference and 'shadow banning' censorship. With Google noticeably absent (empty chair with Google placard), much of the investigators' ire was focused on YouTube, Google Search and Gmail. Perhaps the most damaging comment was by Senator Marco Rubio who noted the just prior to the hearing, false advertisements had been purchased by faked Kremlin operatives and placed on various media platforms.
Soon after the commencement of the Congressional Hearing, the U.S. Justice Department indicated that they would be examining social media firms along with state attorneys general to address concerns of stifling free speech. It is likely that between the two investigations, there will be increased regulatory oversight on social media firms. While only Google is a component of the Bot Index, the fallout on the technology sector will likely impact the robotic sector somewhat. For the week shares of Google fell 4.38%, Facebook was off 7.89% and Twitter declined 14.52%.
Member: American Economic Association, Society of Professional Journalists, United States Press Association. Institute of Chartered Financial Analysts, Robotic Industries Association.
The Bot Brief is a weekly newsletter designed for economists, investment specialists, journalists and academicians. It receives no remuneration from any companies that may from time to time be featured and its commentaries, analysis, opinions and research represent the subjective views of Balcones Investment Research, LLC. Due to the complex and rapidly changing nature of the subject matter, the company makes no assurances as to the absolute accuracy of material presented.
Balcones Investment Research can be reached at its website BalconesInvestmentResearch.com and is headquartered in Florida; with offices in Texas and North Carolina, United States