Weekly Bot Brief on Robotic Research and Investment Review 8-3-2018
"There is no force on earth more powerful than an idea whose time has come" - Victor Hugo
Bot Index Highlights: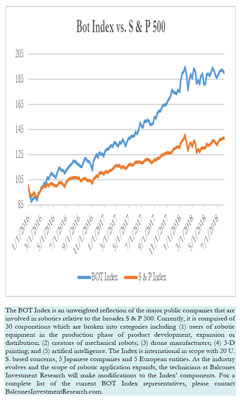 Second quarter earnings season has not proven to be kind to the robotic names that comprise the Bot Index. Two notable companies within the index reported poor earnings during last week which caused the index to underperform the S & P 500 by a bit over one-hundred and fifty basis points. The two prime culprits were Immersion Corp. who fell 24.83% and Mazor Robotics who declined 14.59%. Immersion's extraordinary slide was a result of the company's weaker than expected revenue flow. Analysts had been anticipating a sales increase to $9.6 million and were disappointed by the actual revenues of $6.1 million which were lower than last year's $7.03 million. Consequently, the reduced sales created an earnings shortfall of $.18 per share versus consensus expectations of a ten-cent loss. The second major disappointment came from Mazor Robotics. Like with Immersion, revenues were the prime setback, falling some 15% over the prior year's sales. The company noted it was adjusting to a change in its business model, away from direct sales, but with lower pricing per unit under an agreement with Medtronics, who has a major equity ownership in the corporation. The Bot Brief anticipates that both companies will recover somewhat in next week's trading. Also contributing to the Bot Index's decline was continued weakness in most of the Asian names within the portfolio and Faro Technologies, which dropped 3.54%, giving back some of the 19.32% that it gained in the prior week.
Not all was bleak within the Bot Index last week, however. Cognex Corp. gained 15.81% as it enjoyed an 18.6% jump in revenue due to strength in logistics and automotive markets. The company had warned Wall Street that it had anticipated some weakness for much of 2018, so the revenue surprise was favorably viewed by the investment community. Teledyne, likewise, reported strong sales and earnings for the period and rewarded investors with a 4.79% stock increase. The company noted that it achieved a record level of sales (up 9.1% YOY), record earnings of $2.32 per share (versus $1.66 in 2017) and increased full-year guidance. During the week, 3D Systems recovered 3.55% from the prior week's 17% slide, Apple gained 8.91% as excitement surrounding its $1 trillion market cap thrilled Wall Street and the media and AeroVironment continued its upsurge that has carried the company from the $45 area in March to the closing price of $75.02 last Friday.
Bots in the News:
In the June edition of the American Economic Review, authors Daron Acemoglu from MIT and Pascual Restrepo of Boston University produced a masterful analysis of the relationship of human and robotic labor. Entitled, 'The Race between Man and Machine: Implications of Technology for Growth, Factor Shares, and Employment', the piece examined the prospect of a point of equilibrium between tasks absorbed by robotics and 'new' tasks that are created as a result of the countervailing forces that robotics creates. In their conclusion, they note that, "At the center of our model is a task-based framework. Automation is modeled as the endogenous expansion of the set of tasks that can be performed by capital, replacing labor in tasks that it previously produced. The main new feature of our framework is that, in addition to automation, there is another type of technological change complementing labor. In our model, this takes the form of the introduction of new, more complex versions of existing tasks, and it is assumed that labor has a comparative advantage in these new tasks."
The Bot Brief hopes this paper and other astute analyses of the relationship of robotics to growth and their complement to human labor will put asunder some of the concerns that robotics will take over all jobs and society will have to deal with only the negative consequences of automation rather than enjoy the growth and prosperity it is more likely to beget.
In the July 14th edition of The Economist, there was an interesting article that discussed the applications of artificial intelligence in the legal profession. Four companies were cited as contributing to vast time savings to law firms. Kira Systems was a company that a corporate lawyer founded to facilitate contract, recognize anomalies and review documents for accuracy and inclusion. The second company Lisa is a British tech concern that draws non-disclosure agreements. And RAVN and Luminance provide document review which the article cited as possibly saving 80% in time.
The largest British aerospace defense contractor – BAE Systems has developed a flying wing drone – Taranis - that can be used in AI military operations which can be operated remotely by pilot or released to use its intelligence to autonomously conduct attack operations.
Also, in the July 14th edition of The Economist was a feature entitled 'The rise of the robochef'. Much like Dr. Arthur Laffer noted in a recent issue of the Bot Brief, robots have significantly entered the world of cooking. The article noted several firms that are producing virtually their entire fare in an extremely efficient fashion. No longer are these endeavors mere gimmicks, new robots are able to completely respond to the exact specifications requested by consumers in burgers, pizzas and even more elegant dishes and ethnic cuisine.
Member: American Economic Association, Society of Professional Journalists, United States Press Association. Institute of Chartered Financial Analysts, Robotic Industries Association.
The Bot Brief is a weekly newsletter designed for economists, investment specialists, journalists and academicians. It receives no remuneration from any companies that may from time to time be featured and its commentaries, analysis, opinions and research represent the subjective views of Balcones Investment Research, LLC. Due to the complex and rapidly changing nature of the subject matter, the company makes no assurances as to the absolute accuracy of material presented.
Balcones Investment Research can be reached at its website BalconesInvestmentResearch.com and is headquartered in Florida; with offices in Texas and North Carolina, United States
Cover photo courtesy of The Mirror, UK