Weekly Bot Brief on Robotic Research and Investment Review 8-2-2019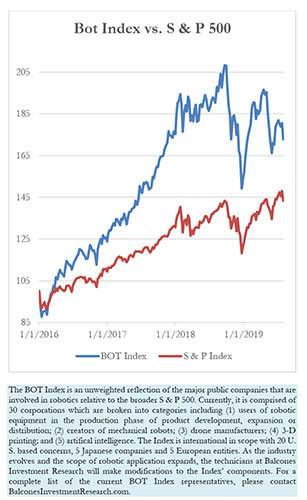 "There is no force on earth more powerful than an idea whose time has come." -Victor Hugo
Bot Index Highlights:
Good economic news regarding consumer sentiment and employment was overshadowed last week by collapsing hope on some resolve for trade issues between the United States and China. The broad market declined by over 3% which sent the higher beta robotic names down 4.33%. Eleven of the thirty companies that comprise the Bot Index fell over 5% and only two companies escaped negative returns. Immersion Corp. rose 6.32%. The divergence by Immersion Corp. was as a result of a combination of a great revenue report for the June quarter and the settlement of a litigation against Motorola. The revenues for the quarter came in at $8.7 million versus year-over-year's 6.1%. However, the 42% revenue boost failed to stem the tied of red ink for the earnings per share (- $.27). Nonetheless investors were excited about the closure of a patent infringement lawsuit that Immersion had sought regarding its haptic technology. Just as a similar settlement in January, 2018 against Apple, brought considerable income to the company, investors presumed a similar outcome.
The worst performers of the eleven components that experienced 5% or greater reversals, included the 20.83% collapse in Ekso Bionics and the 10.51% slide in Oceaneering International. Both companies reported earnings that disappointed. Ekso's decline occurred on Friday with volume eight times normal. Oceaneering International reported a loss for the quarter of $.32 versus last year's 23 cent loss and Wall Street consensus for a decine of 25 cents. Due to slippage in an operating unit, full year guidance for EBITDA was repegged ten million dollars lower. Other decliners that hovered around the 6+% give-up included NIO Corp., Amazon, Hiwin Technologies, Accuray Inc., Rockwell Technologies, iRobot Corp., 3D Systems, Textron and NVIDIA Corp.
Robots and Ethics:
We happened upon a magazine article while travelling to Amsterdam this week entitled Robot Ethics. The KLM Airline magazine feature involved an interview with Professor Aimee van Wynsberghe who helped create the Foundation for Responsible Robotics. As the Bot Brief has long advocated, the need for non-governmental responsiveness to the rapidly changing impact of robotics upon the world economy is critical. Scientists, economists and ethics experts will surely need to help guide legislation on robotics and Artificial Intelligence if this new era is to be controlled responsibly. As Charles Dickens once wrote, "It is the best of times, it is the worst of times". It is up to foresight to ensure that we utilize these new instruments to create the best of times.
Member: American Economic Association, Society of Professional Journalists, United States Press Association. Institute of Chartered Financial Analysts, Robotic Industries Association.
The Bot Brief is a weekly newsletter designed for economists, investment specialists, journalists and academicians. It receives no remuneration from any companies that may from time to time be featured and its commentaries, analysis, opinions and research represent the subjective views of Balcones Investment Research, LLC. Due to the complex and rapidly changing nature of the subject matter, the company makes no