Weekly Bot Brief on Robotic Research and Investment Review 8-09-2019
"There is no force on earth more powerful than an Idea whose time has come" -Victor Hugo
Bot Index Highlights: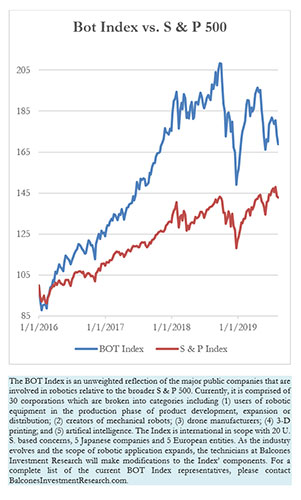 Significant weakness in three Bot Index components forced the Index down 2.25% for the past week. The three have been on several months of declining values based on their earnings and revenue softness. 3D System led the decliners with a 16% slide as investors have grown tired of the continual lack of earnings progress. Clearly, based upon the huge volume that the company experienced on Thursday (6 million versus an average daily volume of 1.2 million), a major holder capitulated. Since the stock dropped from $8.15 to $7, the holder had significant difficulty in finding any buyers. Oceaneering International fell 14.18% due to subdued prospects as a major expectation for a Navy contract fell through. Accuray International, down 8.21%, has been among worst performers for the past couple of weeks. The company is expected to report earnings next week and investors are concerned that they may disappoint.
Defense stocks within the Index were among the better performers in this dismal report period. Northrup Grumman was subject of two Wall Street articles that helped propel the stock up 8.62%. Investors Business Digest cited defense stocks as providing a hedge against the China tariff issues. The article explained that 80% of the company's 2018 revenues are derived from U.S. government contracts that are longer term and a predictable source of income. Revenues are expected to jump 13% for the year. The Street.com's article, Northrup Grumman Looks Like it Can Fly Higher in the Weeks Ahead, noted the favorable technical position of the stock. Likewise, Lockheed Martin's 4.17% increase was attributed to the award of two military contracts during the past week. Orders of $405 million came from a U.S. Army hypersonic grant and a contract from the Missile Defense Agency amounted to $240 million. Finally, Cognex's 4.14% rise was based on a comment, "A stock with outstanding fundamental characteristic" that appeared in Simply Wall Street's feature – Is Cognex Corp. Potentially Undervalued.
Holograms and Voice Technologies:
We recently received a demonstration of a Microsoft Azure reality broadcast that featured a combination of hologram, voice, language translation and applied neural intonation. It is an amazing piece of technological advance that you will enjoy viewing.
Member: American Economic Association, Society of Professional Journalists, United States Press Association. Institute of Chartered Financial Analysts, Robotic Industries Association.
The Bot Brief is a weekly newsletter designed for economists, investment specialists, journalists and academicians. It receives no remuneration from any companies that may from time to time be featured and its commentaries, analysis, opinions and research represent the subjective views of Balcones Investment Research, LLC. Due to the complex and rapidly changing nature of the subject matter, the company makes no assurances as to the absolute accuracy of material presented