Weekly Bot Brief on Robotic Research and Investment Review 7-5-2019
"There is no force on earth more powerful than an idea whose time has come" -Victor Hugo
Bot Index Highlights: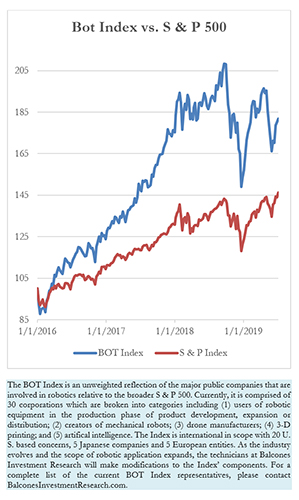 Despite several showings of strength by five components in the abbreviated market last week, the Bot Index rose only 1% versus the S & P 500's 1.65% increase. The broad market's rise did not particularly help the Bot Index as 16 of the 30 components experienced declines during the week. Only two stocks, however, experienced significant reductions in shareholder value: Cognex Corp. who fell 7.37% and Faro Technologies that dropped 6.81%. Cognex's decline was prefaced by Zach's Research placing the stock on its New Strong Sell Stocks for July 1. The fall by Faro Technologies was probably a result of the stock's four straight weeks of gains and investors taking their profits ahead of the July 4th holiday trading week.
Of the positive stocks for the July 4th week, the lead performer was NIO Inc. The low-priced stock gained 27.84% on the news that competitor Tesla's second quarter results indicated strong upsurge in both production and deliveries. Two Asian companies, Cyberdyne Inc. and Hiwin Technologies gained 9.11% and 5.19% respectively. In trading of the mega cap techs from America, Apple rose 3.19% and Google jumped 4.68%
Oxford No Less:
In an exhaustive analysis of how robotics will likely impact employment, the Oxford Economics Ltd. think tank, recently distributed its report to the public. Oxford Economics is the commercial arm of Oxford University's Business College and was established in 1981 to provide economic analysis. In this latest report, How Robots Change the World, What Automation Really Means For Jobs and Productivity, June 2019, the think-tank delved into what seems a fair analysis of the pros and cons of this new industrial revolution. As a 'creative disruptor' robotics will increase human productivity and, as such, promote economic growth (albeit with differing impacts upon nations). Disproportionately negative implication on job losses are expected to hit developing nations that have a proportionately larger set of unskilled workers.
The article not only made assumptions regarding the robotic impact upon the future, but current statistics were also noted. In China, for example, the feature explained that China is building a commanding lead in the use of robots. One in every three newly worldwide employed manufacturing robots is destined for China as the country fuels its massive manufacturing engine. "Despite its rapidly growing inventory, China only uses 68 robots per 10,000 workers in general manufacturing, compared with 303 per 10,000 in Japan, and 631 per 10,000 in South Korea." By 2030 China could have as many as 14 million industrial robots in use, dwarfing the rest of the world's stock of industrial robots as it reinforces its position as the world's primary manufacturing hub. Within the modeling effort of Oxford Economics, they suggest that each one of those robots will displace 1.6 Chinese workers.
With the generation of greater productivity, however, Oxford indicated that "we found that a faster adoption of robots has a positive impact on both short and medium term growth. For example, boosting robot installations to 30% above the baseline forecast by 2030 would lead to an estimated 5.3% boost in global GDP that year (or adding an extra $4.9 trillion per year to the global economy, equivalent to an economy greater than the projected size of Germany's!). Furthermore, Oxford Economics found that a 1% increase in the stock of robots per worker in the manufacturing sector alone leads to a 0.1% boost to output per worker across the wider workforce.
In its summary, Oxford Economics offered advice for both policy makers, educators and corporations on how to deal with the new opportunities and challenges of the Robotic Revolution. The role of government would suggest that Policymakers must anticipate the mix of forces this level of automation will unleash— including job creation as well as job displacement across the economy. For corporate executives, Oxford encouraged continual expansion and support for technological advances, however, seeking 'buy-in' by employees and on job training. For academia, the firm encouraged a more active role in working with governments and corporations to recognize and prepare students to meet new challenges that will be ever emerging in this new era of employment.
Member: American Economic Association, Society of Professional Journalists, United States Press Association. Institute of Chartered Financial Analysts, Robotic Industries Association.
The Bot Brief is a weekly newsletter designed for economists, investment specialists, journalists and academicians. It receives no remuneration from any companies that may from time to time be featured and its commentaries, analysis, opinions and research represent the subjective views of Balcones Investment Research, LLC. Due to the complex and rapidly changing nature of the subject matter, the company makes no assurances as to the absolute accuracy of material presented