Weekly Bot Brief on Robotic Research and Investment Review 7-27-2018
Bot Index Highlights: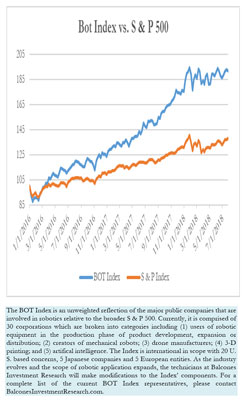 On what should have been a strong week for the Bot Index, several notable companies forced the index into negative territory. With the S & P 500 gaining sixty basis points and the prospects for some trade relief, it would be presumed that the higher beta robotic names would perform well. Unfortunately, five of the index's components declined more than four percent, driving the Bot Index to 191.8, a drop of almost a half percent. The leading decliner was 3D Systems who fell 17.27% on a downgrade by Piper Jaffray. The Wall Street firm reduced its DDD opinion from 'neutral' to 'underweight'. A new valuation was placed on the stock at $10 with Friday's closing price at $12.41. Investors will have to digest if the potential for another decline of another 20% to Piper's target is in store for next week's trading. Following 3D Systems in disappointing shareholders was Northrup Grumman whose 6.88% drop was despite an earnings report that beat Wall Street expectations and gained 24.4% over the prior years' second quarter. The problem with the stock appears to do with a very confrontational meeting between legislators and the company's CEO over cost overruns with the James Webb Space Telescope. The price tag is expected to be coming in around $9.7 billion and is already $800 million over the budget, with another $900 potential competition cost. Immersion Corp. slipped 5.60% in the face of next Thursday's earnings announcement. And, finally, Ekso Bionics continued its volatile trading pattern effectively removing 5.26% of the prior week's 9.19% gain.
On the positive side of the robotics' performance spectrum was the 19.33% increase experienced by Faro Technologies. Riding a two-week appearance on the 'best performer' list, Faro's stock has been propelled by its second quarter earnings report. The company announced it experienced a quarterly sales gain of 18.8% and produced net income of $1.2 million as compared with a loss of $3.6 million in the second quarter of 2017. IRobot reversed the 7.83% decline during the prior week to gain 8.24%. The company reported earnings of $.37 per share that surprised analysts who had been anticipating a number half that amount. The company also increased its full year guidance to $2.30 - $2.50 from a prior $2.15 - $2.40. Two other Bot Index components rose on favorable earnings that were reported last week. United Technology rose 3.28% and Rockwell Automation added 7.45%.
No Potatoes for the Martian But He's Getting a Drone!!
The Bot Brief has long expressed our opinion that space travel and undersea exploration are perfect situations to employ robotics. The expanse of opportunities to add to employment and scientific advancement will be stimulated by robotic applications. In a recent announcement by NASA and the Jet Propulsion Lab, AeroVironment Corp. has been designated to provide drones on its 2020 unmanned mission to Mars. This $2.1 billion venture will have significant implications in terms of both finance and reputation to AeroVironment. The company was trading as low as $45 in April and has been surging of late, pushing the stock to Friday's close of $72.09.
Member: American Economic Association, Society of Professional Journalists, United States Press Association. Institute of Chartered Financial Analysts, Robotic Industries Association.
The Bot Brief is a weekly newsletter designed for economists, investment specialists, journalists and academicians. It receives no remuneration from any companies that may from time to time be featured and its commentaries, analysis, opinions and research represent the subjective views of Balcones Investment Research, LLC. Due to the complex and rapidly changing nature of the subject matter, the company makes no assurances as to the absolute accuracy of material presented.
Balcones Investment Research can be reached at its website BalconesInvestmentResearch.com and is headquartered in Florida; with offices in Texas and North Carolina, United States