Weekly Bot Brief on Robotic Research and Investment Review 7-13-2018
There is no force on earth more powerful than an idea whose time has come" -Victor Hugo
Bot Index Highlights: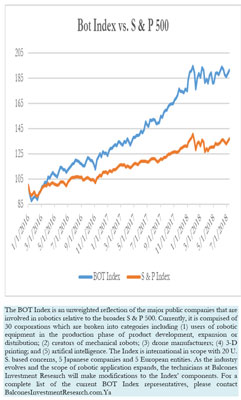 In this week's performance race the Bot Index's 1.53% gain barely edged out the S & P 500 by three basis points. The bots were paced by quite a few companies whose stocks gained over 3% but the better performers achieved upwards of four percent in movement during the week that ended on Friday the 13th! In a departure from a string of weeks that noted negative returns from Japanese-based entities, Cyberdyne Inc. led the Bot Index with its 6.83% advance. On a series of news reports about the company's possible entry into data center networking switches, Amazon gained almost six percent, taking the stock to a new high. Intuitive Surgical rose 5.83% on a favorable report from Zachs that featured the company's Asian opportunities and, in particular, the initiation of operations in India. In addition, Investopedia and the Motley Fool both produced positive research reports on the firm. Google rose 4.27% as MarketRealist generated a review of the company's first quarter YOY non-advertising revenues which grew 37.5% and the two acquisitions and five other corporate investments that occurred in the second quarter that would likely add to that growth. Shares of Northrup and Lockheed were bid up 4.68% and 6.41% respectively on the announcement that NATO allies would increase defense spending to 2% of GDP by 2024. Finally, 3D Systems benefited shareholders to the tune of 4.14% as the Motley Fool produced a positive research report.
Ekso Bionics led the losers for the week as it gave back 12.12% of the prior week's 10.60% positive return. ACCESSWIRE ran a technical report on the company that noted the shares were well above their 50-day and 200-day moving averages which could be a sign of overextension. Accuray Inc., with a 5.34% decline this week, continued its six-month long slide which has seen the stock move from $5.90 to $3.85.
Bots in the News:
Evidently several engineers at MIT have developed a new chip that will support AI operations at much reduced power requirements. Heretofore, artificial intelligent applications needed to either access cloud data bases, which made them vulnerable to intrusion, or required masses of electrical energy to sort through neural net data. With the new chip, the ability to utilize artificial intelligence within smaller devices will provide practicality to a whole new realm of activities.
ELLE Magazine ran a featured article entitled, "3 Ways Artificial Intelligence Is Going to Change Your Life This Year." Not surprisingly the number one of those three changes are within the ubiquitous smart phones (that are truly becoming smarter every day!). Not content with tasks such as automatically closing applications when not in use or translating text, new features with voice and facial recognition and the further integration with other systems, smart phones are becoming ever more essential to virtually everyone on the planet. ELLE's second prognostication involves the 'smart home' where AI-based physical products will learn to adapt to consumer needs and automatically provide sets of services that provide convenience as well as health care. The final ELLE feature is, not surprisingly, in regard to fashion. Not only will AI find a niche in clothing shopping but will encroach upon the designers' role in fabric production, stitching, and design.
In last week's TechRepublic article entitled, "Robots will steal your white-collar office job, too: 3 case studies." While the Bot Brief is generally not in favor of such dramatic headlines, the article cited a number of academic studies that predicted a significant number of robotic impacts upon white collar jobs. The irony, not implied in the headline, is that one of the TechRepublic sources suggested that AI will be additive to employment to the tune of a half million jobs by 2020. In the three case studies of the article, the authors must be subscribers to ELLE since the first of the three jobs impacted was determined to be fashion designers! The other two were lawyers and doctors and, although the article indicated that AI was already replacing employees of the three professions, they did not cite any numbers to back up the claim.
The money keeps on flowing into the autonomous car development as investors want to own a 'piece of the action' and companies want to either be first or not left behind in production and approvals. The China/USA firm Pony.ai announced that it is the first start-up 'to secure the T3 autonomous vehicle testing license in Beijing'. In addition, the firm reported that it had secured another $102 million in capital raise. This additional funding places the entire venture flow at over a billion dollars.
In another autonomous car announcement, Bosch and Daimler selected Nvidia AI chips for their vehicles. Noting that the computer chip can handle 320 trillion operations per second, the firms are convinced that Level 5 capability is well within reach.
Marriott International announced they are working with Alibaba Group to utilize facial recognition at check-in procedures in two Chinese properties this month. The check-in will purportedly avoid any human intervention in the verification of identity and production of keys.
Member: American Economic Association, Society of Professional Journalists, United States Press Association. Institute of Chartered Financial Analysts, Robotic Industries Association.
The Bot Brief is a weekly newsletter designed for economists, investment specialists, journalists and academicians. It receives no remuneration from any companies that may from time to time be featured and its commentaries, analysis, opinions and research represent the subjective views of Balcones Investment Research, LLC. Due to the complex and rapidly changing nature of the subject matter, the company makes no assurances as to the absolute accuracy of material presented.
Balcones Investment Research can be reached at its website BalconesInvestmentResearch.com and is headquartered in Florida; with offices in Texas and North Carolina, United States
Cover photo courtesy of The Mirror, UK