Weekly Bot Brief on Robotic Research and Investment Review 6-7-2019
There is no force on earth more powerful than an idea whose time has come." -Victor Hugo
Bot Index Highlights: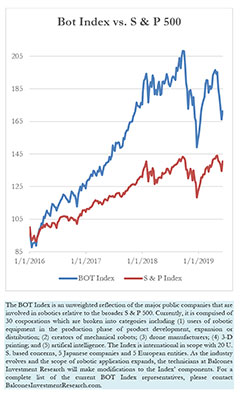 Despite a rare up-market for the week, the Bot Index failed to match the return of the S & P 500's gain of 4.41%. Held back by three Asian companies, the Bot Index rose 3.09%. NIO's near double digit decline, together with Cyberdyne's 3.29% fall and Hiwin Technologies' 2.73% slide, restrained the overall results of the robotic names. Nevertheless, there was room for investor cheers as Cognex Inc. gained 9.19%. Other notable returners included Apple (+8.61%), Textron (+8.41%) and Intuitive Surgical's turnaround to a positive 7.36%.
Follow-up on The Economist's Jobs Article:
In last week's Bot Brief we discussed the cover article – The Great Jobs Boom – featured in The Economist. In that piece we focused on the expanded economic activity over the past decade that created a need for human employment. However, the article also noted several ancillary hypotheses that the Bot Brief has examined in the past. First was a quote that, "the unemployment rate is positively correlated with rates of property crime and even with violent crime. Having a job gives people a sense of purpose which is also good for all sorts of social outcomes, including mental and physical health." The creation of a 'universal income' as a solution to the possible replacement of human labor with robots has taken root in a number of economic camps. The Economist's article, however, reaffirms our belief that the creation of a 'universal income' is a flawed concept. Unemployment is a curse whose widespread effects far exceed loss of income. Simply paying people should not be considered a panacea for any capital/labor continuum. We believe that education is a far better solution to promote employment in a changing environment. Indeed, as The Economist's article presented, "The share of OECD workers with some form of higher education has risen from 22% in 2000 to nearly 40% today."
The second subject broached in the feature addressed whether technology will drive the future economic employment picture. The article noted that long-term structural changes in demographics, technology and economic policies play important roles in employment. They cited, "technological change, is genuinely strengthening labour markets. Better tech improves the 'matching' of employers with potential employees." Furthermore, the report noted that while gloomy predictions regarding robotic technologies replacing employees are frequently mentioned by policy makers, "the lesson of the past half-millennium is that technological change complements jobs rather than destroys them. Sky high employment rates today suggest that nothing has changed. And there is plenty of evidence pointing in the direction of more improvements. The current period of economic expansion seems to have further to go."
Member: American Economic Association, Society of Professional Journalists, United States Press Association. Institute of Chartered Financial Analysts, Robotic Industries Association.
The Bot Brief is a weekly newsletter designed for economists, investment specialists, journalists and academicians. It receives no remuneration from any companies that may from time to time be featured and its commentaries, analysis, opinions and research represent the subjective views of Balcones Investment Research, LLC. Due to the complex and rapidly changing nature of the subject matter, the company makes no assurances as to the absolute accuracy of material presented