Weekly Bot Brief on Robotic Research and Investment Review 5-25-2018
There is no force on earth more powerful than an idea whose time has come" -Victor Hugo
Bot Index Highlights: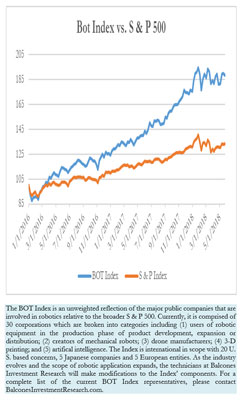 The Bot Index dropped eight tenths of a percent last week as several key components experienced significant declines. The broader market, by contrast, rose just less than one-third percent. On the positive front of the Bot Index were three stocks that each gained just over 3 ½ percent. Faro Technologies led the winners with a 3.66% gain. The company, in a May 24 press release announced, "the availability of its software platform that enables efficiency and const effective transfer of 3D reality capture into Autodesk design tools." Textron Inc. rose 3.62% as a result of an Investor's Business Daily article that mentioned Textron in its title feature 'These 4 Aerospace and Defense Stocks are Near Buy Zones'. Finally, AeroVironment bounced back 3.3% from the prior week's devastating announcement that AeroVironment the company had allegedly tried to cover up a 2015 incident whereby AeroVironment employees had carried a live explosive device within a drone on a U.S. air carrier. A whistle blower suit has been filed and subsequently a securities litigation firm contends that an SEC fraud had been committed.
There were six major losers for the week that contributed to the Bot Index's sub-par market performance. Three of the weakest were among the better performers in the prior week. In a rare moment of sagacious fortuity, the Bot Brief suggested that the 5.25% jump by Accuray Inc. in the week ending May 18 was likely to be retraced due to the company's weekend appearance on a major brokerage's Strong Sell List. Indeed, the stock fell 12%. Also, backing off gains were 3D Systems and Oceaneering International who fell 5.13% and 6.45% respectively. Filling out the weaker names were Hiwin Technologies (-5.45%), Rewalk Robotics (-4.55%) and ABB Ltd. (-3.17%).
Robotics in the News:
The International Conference on Robotics and Automation next month will feature the University of Washington's new drone. In a page right out of the movie Get Smart an insect like drone that can free fly will be making its initial appearance as yet another step in potential drone applications.
The Economist in its May 12th edition devoted a cover feature on 'Robotic Rules of the Road'. With the race by a number of firms seeing autonomous driving domination, certain safety standards and the development of a set of 'rules of the road' are essential for public acceptance of the new technology. With competition fierce, the article noted the need for the creation of cooperative and collaborative dialogue to ensure the ultimate success of the venture.
The Wall Street Journal ran two articles on robotics in its May 15 issue. The cover page story focused on the positive employment aspects of the application of robotics within the manufacturing sector. The article cited automation in the BMW automobile production plant in Greenville, S.C. as enabling a significant increase in quality which, in turn, increased demand for the vehicles which led to an expansion in the work force from 4,200 to more than 10,000. The second WSJ article was less laudatory as it raised questions regarding Tesla's Autopilot's safety issues.
A new company Volans-i announced it had successfully tested it new delivery drone that is designed to carry heavier parts and equipment to factories, construction sites and to vessels at sea. The drones can travel up to 500 miles at a speed on 200 mph and carry up to a 20-pound payload. Perhaps the greatest attribute of the aero-devices is its ability to take-off and land on a space of only 15 feet square. This feature is of considerable value in the movement of goods that may be variable and lacking space.
Robotic Gold Stimulates Entrepreneurs:
With a goal of being a world-class mobile robot systems integrator, Ben Toskey chucked his ten-year career in Industrial Automation systems engineering and sales to create his new firm Motive Robotics. Mr. Toskey's degrees in Mechanical Engineering and Management from the University of Minnesota and knowledge of the growing market for the robotic transport of materials within the manufacturing industry, were the keys to developing his own business two years ago. Now with a significant jump in sales, which has provided both financial status and an ability for capitalized expansion, Motive Robotics is carving a niche in the burgeoning manufacturing sector. According to an Interact Analytics' forecast, the market for mobile robotics is likely to rise from $1 billion to over $7 billion by 2022. To operate the robots another $3 billion in software is expected to be expended by business in the warehousing and manufacturing space.
The ability of robotic transport of materials via infrastructure-free robots is a sweet spot that Motive Robotics is capturing. The company bridges the gap between the robot manufacturers and end customers with its proprietary integrated solutions. In an interview with Mr. Toskey, he indicated that the company feels that it has plenty of expansion opportunities within the production cycle of manufacturing plants. While recognizing that the dynamic growth in robotic transport is in the fulfilment areas, aka Amazon and its legion of warehouse robots, Toskey is confident that his area of expertise with help meet his goal of being a world-class mobile robot systems integrator.
Member: American Economic Association, Society of Professional Journalists, United States Press Association. Institute of Chartered Financial Analysts
The Bot Brief is a weekly newsletter designed for economists, investment specialists, journalists and academicians. It receives no remuneration from any companies that may from time to time be featured and its commentaries, analysis, opinions and research represent the subjective views of Balcones Investment Research, LLC. Due to the complex and rapidly changing nature of the subject matter, the company makes no assurances as to the absolute accuracy of material presented.
Balcones Investment Research can be reached at its website BalconesInvestmentResearch.com and is headquartered in Florida; with offices in Texas and North Carolina, United States