Weekly Bot Brief on Robotic Research and Investment Review 5-24-2019
"There is no force on earth more powerful than an idea whose time has come" -Victor Hugo
Bot Index Highlights: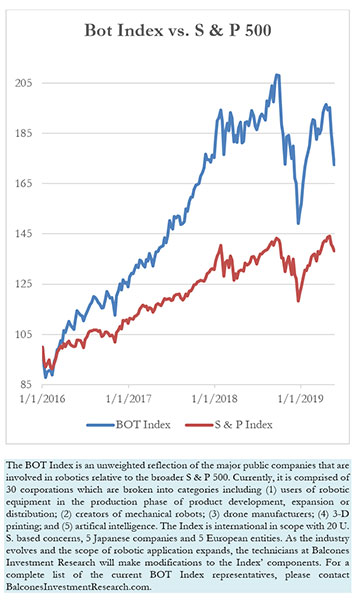 Macro events have wreaked havoc upon the high beta robotic stocks over the past month. In four of the past five weeks' trading, the Bot Index has underperformed the S & P 500. The damage has been so extensive that, for the entire year, the Bot Index's return is below that of the S & P 500. Since the beginning of 2019, the broader market has provided a 13.69% upswing to investors while the Bot Index's return is only 12.19%. Since the year's highest's level of 196.5494, attained on April 19, the bots have underperformed the S & P 500 by almost 10 full percentage points. Contributing to the weakness has been the continuing tariff issues between the U.S. and China, the rising threat of international conflicts, the ratcheting down of world economic production projections and the increasing disfunction in world politics. With the recent resignation of Prime Minister Theresa May in Great Britain, the vitriol between U.S. Democrats and Republicans, the failure of the Venezuelan coup attempt, and the alleged Iranian attacks upon Saudi oil tankers, investor resolve has been significantly shaken.
For the week, the Bot Index declined 3.60%, more than double the 1.17% slide in the S & P 500. Within the 30 stock index only three names provided positive returns. Of those, Lockheed Martin (+.23%) and Northrup Grumman (+1.75%), both defense industry suppliers, gained from the increase in international tensions. The best performer, however, Qiagen NV gained 3.05% on positive news of the FDA approval of a cancer detection kit and an endorsement by the United Nation's Health Innovation Exchange for diagnosis of late stage HIV accompanied tuberculosis.
Within the losers of the Bot Index there were six companies whose stocks fell in excess of 5% and, of those, three whose stocks fell by double digits. The worst performer for the week was Ekso Bionics whose 16.29% drop capped off a 40% decline in the past month. The stock was hit due to the dilutive earnings effect that this week's 6.67 million share float of a secondary stock issue would create. The shares were sweetened with an equal amount of warrants that expire in five years at a strike price of $2.00.
Joining Ekso in the double digit loser's column were Asian firms NIO and Yaskawa Electric who were down 12.67% and 10.03% respectively. Other disappointing stocks included Apple (-5.31%) and Hiwin Technologies (-5.10%) who have been weak of late due to the U.S./China tariff issues. Finally, Oceaneering International fell 8.85% as its 22% increase during the month of April created a valuation concern.
Member: American Economic Association, Society of Professional Journalists, United States Press Association. Institute of Chartered Financial Analysts, Robotic Industries Association.
The Bot Brief is a weekly newsletter designed for economists, investment specialists, journalists and academicians. It receives no remuneration from any companies that may from time to time be featured and its commentaries, analysis, opinions and research represent the subjective views of Balcones Investment Research, LLC. Due to the complex and rapidly changing nature of the subject matter, the company makes no assurances as to the absolute accuracy of material presented