Weekly Bot Brief on Robotic Research and Investment Review 5-15-2019
"There is no force on earth more powerful than an idea whose time has come" -Victor Hugo
Bot Index Highlights: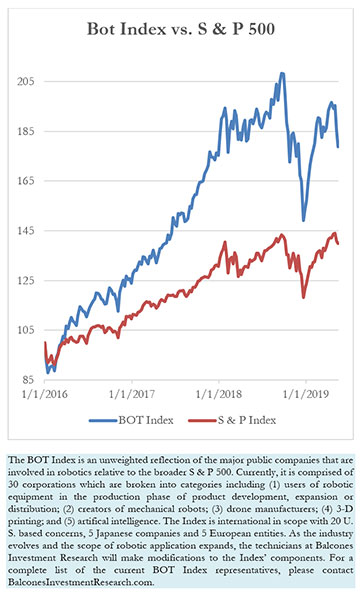 Two weeks ago, the leading performer of the Bot Index, Immersion Corp., gained 8.89%. In trading last week, however, the stock gave back some 23.78% and was a major contributor to the 3.59% drop in the Index. The bot's fall far exceeded the .76% decline in the S & P 500. Investors were concerned about Immersion's $.34 per share earnings decline and revenue miss. The new lower valuation, however, prompted the analysts from Dougherty & Co. to upgrade their recommendation to 'buy' from 'neutral'. NVIDIA Corp. fell 7.28% after it announced it would stop issuing full year earnings guidance and investor concerns over the pending $7 billion merger with the Israeli firm Mellanox. The trade issues between China and the U.S. has created fears over chip sales under new tariff regulations. Cognex Corp. slid 5.98% following an article published by Zachs entitled, "New Strong Sell Stocks for May 15". Faro Corp.'s shareholders have faced significant volatility over the past weeks since March 22nd's $43.08 price that rose to $56.94 on April 19th only to fall back down to $48.58 at weeks close. Similar volatility surrounded the prices of Yaskawa Electric (-6.36%) and Hiwin Technology (-5.77) since their high levels on April 19.
Of the positive performers within the Bot Index, of which there were only five, Northrup Grumman managed a 1.95% gain on the company's 10% increase in dividends to $1.32. At that level and price, the yield is now 1.72%. In Jim Cramer's Mad Money CNBC feature he noted the company in seven stocks that he highlighted as undervalued. The only other notable gainer was AeroVironment whose shares benefited from Canaccord Research's upgrade from 'hold' to 'buy'. The target price was $86 or approximately 15% above current prices.
The Right Thing at the Right Time and the Right Place:
We were fortunate enough to be invited to attend a 'kick-off' of the new Southeast Volusia School of Science and Technology this week. The charter school for STEM students from middle school through high school is specifically designed to prepare its graduates for either higher education or ready acceptance into technology jobs. The curriculum focuses on four major disciplines: Production and Propulsion, Artistic Engineering, Robotics & Computer Science and Biomedical & Health Science. Consistent with these four major sources of education, each student will also be required to attend an entrepreneurial course designed to promote student understanding of how business works.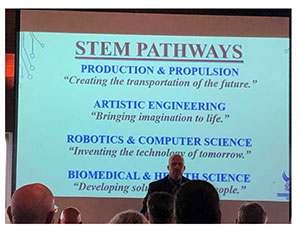 Fortunately for the students of SVSST the school is located within thirty miles of economic activities in those four disciplines. Regarding Production and Propulsion, there are numerous employers right in the school's backyard which include Space X and NASA, Everglades, Boston Whaler and Edgewater Boating headquarters. Regarding the Artistic Engineering efforts, the school is near all the attractions of Orlando which include Disney, Universal Studios and SeaWorld. Robotics & Computer Science educated students will certainly be of value to Lockheed Martin, who is headquartered in Doral, and Embry Riddle University. Finally, Orlando is a major hub of hospitals and medical research which will find a steady source of employment for those students in the Biomedical & Health Science curriculum.
The Bot Brief has featured educational efforts regarding robotics many times over the past several years. We feel that the preparation of the world's youth to blend into the ever changing employment era that has been brought on by the Robotic Revolution will serve us well in the future. Mr. Oscar Zeller from the Board of the Southeast Volusia Science Tech mentioned, "This new school will provide our student an opportunity to learn vocational/technical skills preparing them for the workplace or college-bound pathway. Education is our key and robotics is our future."
Member: American Economic Association, Society of Professional Journalists, United States Press Association. Institute of Chartered Financial Analysts, Robotic Industries Association.
The Bot Brief is a weekly newsletter designed for economists, investment specialists, journalists and academicians. It receives no remuneration from any companies that may from time to time be featured and its commentaries, analysis, opinions and research represent the subjective views of Balcones Investment Research, LLC. Due to the complex and rapidly changing nature of the subject matter, the company makes no assurances as to the absolute accuracy of material presented