Weekly Bot Brief on Robotic Research and Investment Review 5-11-2018
'There is no force on earth more powerful than an idea whose time has come" -Victor Hugo
Bot Index Highlights: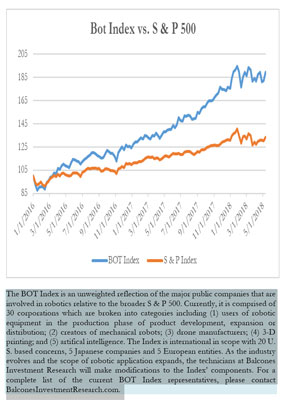 The higher beta stocks that comprise the Bot Index proved their correlation in last week's trading. Buoyed by an S & P 500 that rose 2.41%, robotic companies jumped by over 4%. The leaders of the remarkable strength included double digit returns from Hiwin Technologies who posted a 21.83% improvement, 3D Systems who grew by 20.64% and Immersion Technologies' gained 11.89%. Hiwin Technologies leading return was a result of a strong earnings report for the first quarter. Net income for Hiwin gained a massive 43.65% over the quarter ended in December! One of the past years' weaker performers turned upward last week with a 20.64% gain. The stock of 3D Systems was significantly aided by an agreement with Huntington Ingalls to print metal parts for U.S warships. Finally, wrapping up the double-digit returners was Immersion Corp. whose stock has been on a surge ever since it reported earnings that far exceeded any analysts' projection and reached an agreement with Apple on their patent infringement. While not in the double-digit club, nevertheless, Oceaneering International gained 8.16% primarily based upon the jump in oil prices above $70 following the Administration's announced sanctions against Iran.
The leading losers for the week included the 9.66% decline experienced by Ekso Bionics. The company's stock has done quite well over the past few weeks as CNBC did a promo on the company's bionic vest program. However, this week analysts were disappointed with the first quarter numbers that came in at a loss of $.13. The remaining companies that experienced shareholder retreats were all internationally based companies. They included Fanuc Inc. who fell 1.1%, Rewalk Robotics and Keyence Corp. who were both off .94% and finally shares of Cyberdyne declined .84%.
Robots in the News:
The Sunday Express published an article 'What about that human touch? Elderly will be cared for by robots to solve staff shortages.' The piece noted that the University of Bedfordshire and Advinia Health Care Company will be launching an EU funded trial with the intent to prevent isolation and loneliness in the elderly. Softbank Robots will be used to interact, converse, play games and remind their charges to take their medications.
The U.S. Air Force announced an enhancement to its current use of drones that will be used in conjunction with many of its existing aircraft. The Defense Advanced Research Projects Agency (DARPA) is testing the use of drones launched by aircraft and recovered in flight to allow for longer ranges, improved sensor payloads, advanced weapons and localized control by an algorithm enhanced pilot.
This week the White House announced it was creating a task force to review the various intended and unintended consequences of the robotic and artificial intelligence revolution.
Fox Business News reported that Boston Dynamics, the company known for its "nightmare-inducing" back-flipping robots, has unveiled two new videos that show them autonomously navigating through different terrains, including an office, lab and jogging in a grass field. The two devices, one that looks humanoid and another that looks and moves much like a dog, were able to autonomously run, jump, avoid obstacles and calculate their own limitations.
The Robotic Industries Association reported that the North American robotic market set a new shipments record in the first quarter of 2018. Over $500 million representing 10,730 robots were sold during the quarter, a 22% gain over comparable period in 2017. The most impressive statistic was the growth in the non-automotive industries' use of robots. The robot sales to life sciences rose 262%, plastics and rubber industries increased 130% and food and consumer goods gained 64% over last year.
The Trump Administration announced that the Unmanned Aircraft System (UAS) Integration Pilot Program that is controlled by the U.S. Department of Transportation has selected three state transportation agencies, two cities and two universities to work with companies to test a variety of drone activities. Ten tasks have been assigned to have the public and private entities to undergo significant assessments of viability. With over 90,000 registered drone pilots and over 1.1 million privately held drones in current operation, the need for creating an aerial 'highway' is dire. The tasks include such disparate efforts as mosquito control, food delivery, medical supplies distribution, energy management, and infrastructure inspections.
In a déjà vu back to the development of Apple in the garage of Steve Jobs at 2066 Crist Dr. in Los Altos, a new robotic coffee company has been created in a similarly modest environment. Henry Hu conceived of a vending robot that could deliver all forms of coffee drinks as well as any human baristas. With a $100k grant from the Theil Fellowship, Mr. Hu developed the robot in his San Mateo garage with sheet metal. Following a successful test launch in San Francisco, the new company Café X refined the $25,000 robot to deliver 300-400 cups a day. Now with $7 million in funding, the company hopes to expand into multiple markets during 2018 and become the new 'Apple' of the coffee industry.
Member: American Economic Association, Society of Professional Journalists, United States Press Association. Institute of Chartered Financial Analysts
The Bot Brief is a weekly newsletter designed for economists, investment specialists, journalists and academicians. It receives no remuneration from any companies that may from time to time be featured and its commentaries, analysis, opinions and research represent the subjective views of Balcones Investment Research, LLC. Due to the complex and rapidly changing nature of the subject matter, the company makes no assurances as to the absolute accuracy of material presented.
Balcones Investment Research can be reached at its website BalconesInvestmentResearch.com and is headquartered in Florida; with offices in Texas and North Carolina, United States