Weekly Bot Brief on Robotic Research and Investment Review 4-6-2018
There is no force on earth more powerful than an idea whose time has come." -Victor Hugo
Bot Index Highlights: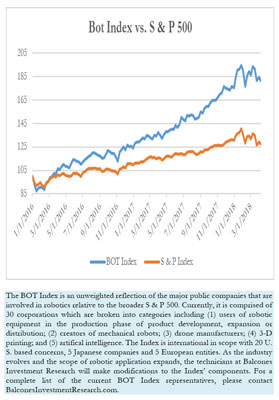 The wild volatility in last week's market trading was equally experienced by the performance of the Bot Index components. Only three companies produced adequate returns and they were all Asian-based companies. The Taiwanese company - Hiwin Technologies Corp. led the pack with a strong 8.6% performance and was followed by Yaskawa Electric's 7.88% and CYBERDYNE's 7.18% increase. In the loser column, while there were no double-digit decliners, the group included eleven of the thirty components that experienced bad to terrible results for the week. With growing doubts about the recent issues with self-driving autos, two names in that industry were among the worst performers. NVIDIA Corp. and Cognex each declined 7.49% and 5.19% respectively. Other weakness occurred with the shares of ABB Limited Corp. (-5.98%), Immersion Corp. (-4.35%), Rockwell Automation (-3.01%), Intuitive Surgical (-3.94%), Accuray Inc. (-6%), Mazor Robotics (-5.18%), and Ekso Bionics Holdings (-7.59%). The leading loss was experienced by Keyence Corp. whose 9.02% drop highlighted a rather middling performance since reaching $618 on November 24 of 2017. The stock closed the week at $569.49.
Hemingway's To Have and Have Not would be a great moniker for the performance of Bot Index Stocks in Q1 20018!
Perhaps, instead, the quarter's moniker could have been characterized by Charles Dicken's leading lines from A Tale of Two Cities. For some of the Bot Index's companies it was the 'best of times', for some it was 'the worst of times'. The table below notes the variance in (as Sergio Leone directed) "The Good, the Bad and the Ugly".
The Good:
Immersion Corp +69.26%
3D Systems +34.11%
Hiwin Technologies +29.50%
FARO Technologies +24.26%
Amazon +23.76%
NVIDIA Corp. +19.68%
Mazor Robotics +18.91%
Accuray Corp. +16.28%
Northrup Grumman +13.75%
Intuitive Surgical +13.12%
The Bad:
IRobot Corp. -16.31%
Cognex Corp. -15.01%
Oceaneering Intl. -12.30%
ABB Ltd. -11.48%
Rockwell Automative -11.28%
The Ugly:
Ekso Bionics -25.82%
AeroVironment Inc. -18.96%
CYBERDYNE Inc. -18.93%
Member: American Economic Association, Society of Professional Journalists, United States Press Association. Institute of Chartered Financial Analysts
The Bot Brief is a weekly newsletter designed for economists, investment specialists, journalists and academicians. It receives no remuneration from any companies that may from time to time be featured and its commentaries, analysis, opinions and research represent the subjective views of Balcones Investment Research, LLC. Due to the complex and rapidly changing nature of the subject matter, the company makes no assurances as to the absolute accuracy of material presented.
Balcones Investment Research can be reached at its website BalconesInvestmentResearch.com and is headquartered in Florida; with offices in Texas and North Carolina, United States