Weekly Bot Brief on Robotic Research and Investment Review 4-20-2018
There is no force on earth more powerful than an idea whose time has come. -Victor Hugo
Bot Index Highlights: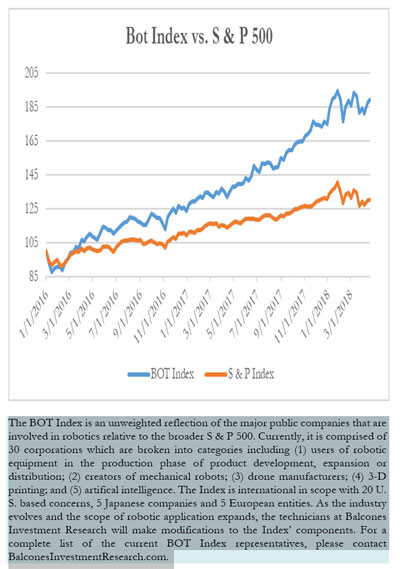 Despite having 13 of the 30 components of the Bot Index in the red for the week, the index itself managed to more than double the return of the S & P 500. The robots gained 1.22% while the general market rose .52%. Leading the charge within the Bot Index were double digit increases by Textron and Intuitive Surgical. Textron's 12.1% jump was a result of an announced division sale to Emerson Electric for $810 million and first quarter earnings per share that exceeded analyst guidance of $.46 by a whopping $.26 and 95% over prior year's figures. The company also announced that it would buy back up to 30 million shares. Intuitive Surgical's 10.04% surge was, likewise, a result of earnings that exceeded expectations. The company reported earnings of $2.44, far exceeding Zacks expectation of $1.89. Other superior performance was attained by Amazon (+6.75%), ABB Ltd. (+5.86%), Faro Tech. (+ 4.36%), Google (+4.24%), Accuray Inc. (+3.06%) and Lockheed Martin (+2.75%).
On the weaker end of the performance spectrum were shares of Apple off 5.16%, Mazor Robotics down 4.22%, Ekso Bionics falling 3.59% and Cyberdyne Inc. who declined 2.80%. Rounding out the weeks' poorer performers were IRobot (-2.84%), 3D Systems (-2.85%) and Fanuc Corp. (-2.37%).
Fuel Begets Energy and Energy Begets Activity:
Every form of life needs fuel in order to survive. Whether that fuel is the form of nutrients in the soil or air, vegetation, fruits, grains, grasses, animals, insects, birds and sea life. Every living creature must consume something in order to generate energy and, therefore, create activity. Even robots must have a source of fuel that can be converted into energy. While not considered 'life' in the form in which we generally perceive as 'existing', robots have amazingly similar physical needs. Almost without exception robot energy is in the form of electricity and electricity can come from a variety of sources. The typical industrial robot may use the traditional form of electricity generated and transmitted to site by wire. The mobile robot, drone and autonomous vehicle will, most likely be powered by some of the many variations of Lithium.
While U.S. industrial energy consumption peaked out in 2000 and has flatlined since 2013, there have been many theories why, with GDP growth from 2008 to 2015 at 12.7%, energy consumption had declined 3 tenths of a percent. It should be noted, however, the use of lithium (LI and #3 on the atomic chart) has more than doubled since 2009 (101,613 metric tons in 2009 to 212,719 in 2016). Clearly, much of the growth of energy usage is in the form of batteries, and in particular, lithium-ion rechargeable batteries.
Lithium and its various molecular combinations have become the standard bearer for high energy, low weight and long-life batteries. Lithium is both the globe's lightest metal and its lightest solid in the periodic table and, as such, serves as an excellent anode in rechargeable batteries. Many variations and molecular combinations of anodes, cathodes and electrolytes are currently being tested and advances in battery life, physical size, weight and safety are rapidly improving the practicality of robotic applications. Just recently, an Airbus Zephyr 7 drone using a lithium-sulfur battery completed an 11-day non-stop flight, something that was unattainable until recent battery breakthroughs.
Lithium is an interesting and costly element that is found in several locations around the globe with Chile, Wyoming, Nevada and Australia being the most significant. Most recently a major find in Afghanistan could be a contributing factor to the continual warfare in the region. Interestingly, this week marked a spate of publicity regarding the discovery of a number of rare elements on an island in Japan. Heretofore, China controlled 97% of the world's supply of lanthanum, lutetium, yttrium and scandium all of which are significant in the input of glass, telecommunication and robotic features. Geologists have estimated that the value of the mineral find could be in the range of $500 billion at today's prices (of course, geologists are not economists, however, should know that increased supply invariably results in decreased prices!). All of which to say is that there will be no lack of raw materials which will improve and expand the use of robots in all their various applications.
Member: American Economic Association, Society of Professional Journalists, United States Press Association. Institute of Chartered Financial Analysts
The Bot Brief is a weekly newsletter designed for economists, investment specialists, journalists and academicians. It receives no remuneration from any companies that may from time to time be featured and its commentaries, analysis, opinions and research represent the subjective views of Balcones Investment Research, LLC. Due to the complex and rapidly changing nature of the subject matter, the company makes no assurances as to the absolute accuracy of material presented.
Balcones Investment Research can be reached at its website BalconesInvestmentResearch.com and is headquartered in Florida; with offices in Texas and North Carolina, United States