Weekly Bot Brief on Robotic Research and Investment Review 4-19-2019
"There is no force on earth more powerful than an idea whose time has come." -Victor Hugo
Bot Index Highlights: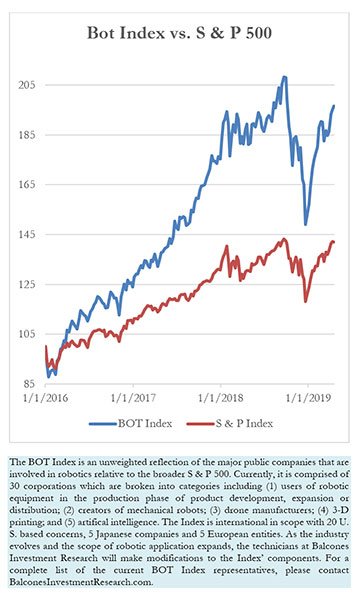 In the Easter abbreviated trading week, the bots and broader indexes were virtually at a standstill. The Bot Index, however, gained .67% slightly outpacing the .08% decline in the S & P 500. While there was little cumulative bot performance for the week, the divergence from the mean was extensive. Within the Bot Index there were five corporations whose gain exceeded 5% and four that fell in excess of 5%. Of the gainers four were international and three of those are domiciled in Japan. The leading domestic stock for the week was driven by earnings that exceeded investor expectations. Textron reported earnings of $.76 per share versus the company's year-over-year earnings of $.72. Volume of Textron shares jumped from an average of 1.4 million shares per day to 5.9 million shares on the 17th when the earnings report was made public. Joining Textron in the strongly positive column were Yaskawa Electric who gained 9.02%, ABB Ltd. that rose 6.29%, OMRON Corp. which jumped 5.07% and Keyence that climbed 5.04%.
Weak first quarter earnings was the culprit in Intuitive Surgical's near 10% slide on accelerated volume. Despite a 27% increase in the number of daVinci surgical systems sold during the quarter, total revenues came in up only 15%. In comparison with the prior quarter's 17% growth, investors were concerned that the earnings growth might not support the rich 54x multiple. Earnings were $2.61 versus the estimate of Wall Street analysts that averaged $2.70. Ekso Bionics declined 11.51%, falling from the year-to-date high of the prior week. Accuray Inc. tumbled another 6.82%, following three consecutive weekly reductions in value. Finally, the Dutch firm QIAGEN NV. slid 5.69%.
Looking at Next Week:
Given the impact that earnings had on two Bot Index's components on last week's trading, it will be interesting to see the impact of earnings announcements in the coming week. Nine bot companies are slated to report between April 22 and April 26, so expect some volatility. Only Lincoln Electric will report on Monday. On Tuesday, however, things start to speed up with Accuray Inc., iRobot, United Technologies and Lockheed all announcing their first quarter results. On Wednesday, Faro Technologies, Teledyne and Northrup are set to report and Rockwell will round out the week's activities on Thursday. With seven of the companies expecting improving EPS, any disappointments will be dealt harshly. It is possible iRobot will announce better than expected results although down from 2018 and United Technologies, the other laggard, is only expecting a minor decline from its 2018 report.
Member: American Economic Association, Society of Professional Journalists, United States Press Association. Institute of Chartered Financial Analysts, Robotic Industries Association.
The Bot Brief is a weekly newsletter designed for economists, investment specialists, journalists and academicians. It receives no remuneration from any companies that may from time to time be featured and its commentaries, analysis, opinions and research represent the subjective views of Balcones Investment Research, LLC. Due to the complex and rapidly changing nature of the subject matter, the company makes no assurances as to the absolute accuracy of material presented