Weekly Bot Brief on Robotic Research and Investment Review 3-9-2018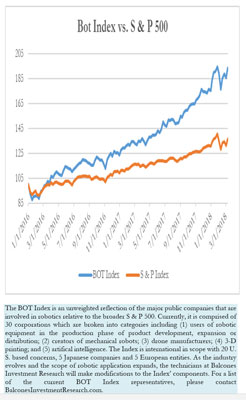 Bot Index Highlights:
The diplomatic breakthrough involving the U.S. and North Korea created an impactful influence on investment markets worldwide. In the U.S., the S & P 500 jumped 3.55% for the week while the Bot Index surpassed that figure experiencing a 3.93% gain. Closing at 193.30, the Bots are nearing their all-time high of 194.31 which was experienced on January 26, 2018.
Shares of Ekso Bionics led gainers within the index, enjoying an 18.83% increase for the week. The low-priced stock indicated that it would report fourth quarter and full year earnings on Tuesday the 13th and investors apparently are expecting good news from the company. Joining Ekso in the leader column included a host of companies that gained greater than 7%. Mazor Robotics rose almost 10% as the Motley Fool published a report that concluded, "Mazor Robotics may well be a high-growth stock that is just getting started." The comment was based upon Mazor's recent quarter that turned a profit for the first time. Lincoln Electric's stock also benefitted from an analyst opinion for the week. Pushing the stock up 7.38% was HIS Markit's increased rating of the stock to 'positive' from 'neutral'. Immersion Corp., whose stock has recently been jumping as a result of its favorable settlement of a patent infringement lawsuit with Apple, announced that it will also seek redress from Samsung Electronics. Helping propel the 7.03% stock jump was the culmination of a licensing agreement between the company and Bosch who will be using Immersion's Haptic technology in automotive solutions. Since starting the new year at $7.06, the stock has risen some 77% to close this week at $12.49. Rounding out the favorable names was Google, whose stock increased 7.52%
There were only four companies in the index that suffered losses. Two of those were earnings related. AeroVironment fell 5.40% as a result of disappointing guidance and weaker than expected earnings. Despite revenues that increased 20% year-over-year, the earnings per share fell 4 cents. Analysts were looking for the company to report 5 cents profit. However, beneath the reported earnings was the fact that the company adjusted its income to reflect a $3.1 million one-time charge due to the changes in the tax code this year, which cost the company 13 cents per share. Otherwise, the reported earnings would have been nine cents per share and actually above expectations. It is likely the stock will correct somewhat in next week's reflection of these facts.
Rewalk Robotics also suffered from weak earnings as its 4th quarter loss amounted to $.25 per share and for the full year -$1.22. The stock declined 1.67%. Shares of Cyberdyne fell 3.61% due to a rather bizarre report from Nomura Securities that classified the company as a 'gray swan' due to its name and Hollywood's characterization of that name as the robotic takeover in Terminator. Go figure!! Rounding out losers was Lockheed Martin whose .36% tumble was probably a result of the positive news regarding North Korean peace talks.
Let's Go For A Ride!
For almost a century and a half mankind has benefitted from the development of the automobile. Many improvements in speed, comfort and safety have been made over the years; however, there have been few epic breakthroughs. We still depend upon an internal combustion engine to serve as the drive train. We still roll down an asphalt or concrete highway, on four wheels made of rubber. We steer the car with a wheel and brake with friction. That is all about to change within the next ten years.
The autonomous vehicle is on the cusp of reality. Automobile companies, computer manufacturers and the components industry are racing to be first, and to dominate, this transportation revolution. The stakes are immense to grab the market leadership. To become the 'Kleenex', 'Chap-stick', 'Xerox copy', 'Uber ride' and other ubiquitous titles dedicated to the original creator of specialized products and services is an essential step in market leadership.
The traditional automotive companies are heavily involved in the autonomous driving concept and are spending massive amounts of capital to either produce AV leadership or avoid being 'left out'. Daimler, BMW and Audi paid $3.1 billion to purchase Nokia's HERE service that provides precise digital mapping. Uber bought Otto for $680 million to acquire 'level 4' autonomy to rapidly join the AV team. General Motors created Cruise through a $1 billion expenditure for a vehicle with no steering wheel and no brake or acceleration pedals. Volkswagen and Hyundai contributed $90 million to startup Aurora to design software and hardware that will power self-driving technologies. Ford created its Argo Artificial Intelligence startup run by Carnegie Mellon's robotic engineers with $1 billion of capital.
Lacking some computer and AI skills the automobile companies are turning to acquisitions to fill their knowledge gap. Intel and Tesla are notable exceptions as Intel bought Mobileye for $15.3 billion to provide synergy to its chip business and Tesla decided to develop its AV vision systems without LIDAR vision systems that virtually all the car companies will utilize along with more traditional vision systems.
A huge number of technology companies that will supply the automobile manufacturers are being created to fill the intellectual voids:
Recently, Zoox raised $250 million for self-driving taxis.
Pony.ai attracted $112 million in new capital for its self-driving artificial intelligence.
Drive.ai from Stanford who provides AI brains for self-driving functions is a $50 million startup.
Ouster.ai's LIDAR systems attracted $27 million in funding.
Starsky Robotics are making self-driving truck vision systems.
We are all familiar with Google's Waymo but are not as acquainted with the source of its name, 'a new way forward in mobility'. Certainly, we are on the brink of a 'disruptive' technological change in the way we view the automotive industry but transportation, in general, will be facing an enormous transformation. Elon Musk has signaled he will aggressively pursue his 500 km./hr. hyperloop project and another startup has developed a prototype passenger flying drone that might make even AV obsolete. Surely, transportation is a major focus of the technology, robotics and AI revolution as we all are experiencing 'a new way forward in mobility'!
Member: American Economic Association, Society of Professional Journalists, United States Press Association. Institute of Chartered Financial Analysts
The Bot Brief is a weekly newsletter designed for economists, investment specialists, journalists and academicians. It receives no remuneration from any companies that may from time to time be featured and its commentaries, analysis, opinions and research represent the subjective views of Balcones Investment Research, LLC. Due to the complex and rapidly changing nature of the subject matter, the company makes no assurances as to the absolute accuracy of material presented.
Balcones Investment Research can be reached at its website BalconesInvestmentResearch.com and is headquartered in Florida; with offices in Texas and North Carolina, United States
Cover photo courtesy of The Mirror, UK