Weekly Bot Brief on Robotic Research and Investment Review 3-16-2018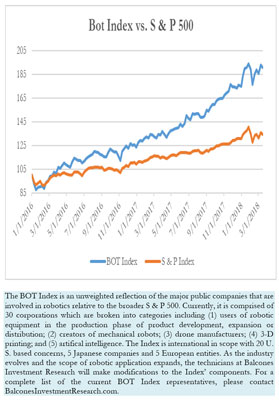 "There is no force on earth more powerful than an idea whose time has come." -Victor Hugo
Bot Index Highlights:
The Bot Index dropped 1.06% last week, somewhat in concert with the 1.24% decline experienced by the S & P 500. The 30-company index had 19 stocks that recorded losses for the 5 trading days. It is not surprising that with the easing of tensions between the U.S. and North Korea, that defense stocks were among the weakest performers. United Technologies, Northrup Grumman and Lockheed Martin all declined in the wake of peace initiatives. In addition, United Technologies also has substantial international business that could be impacted by the looming trade war. Its stock fell 4.28%, exceeded only by Ekso Bionics' decline of 13.12%, which was due to its quarter and year earnings report. As the Bot Brief noted last week, investors had been anticipating a good report from the company and bid the stock up 18.83%. Unfortunately, the $2.5 million in quarterly revenue versus last year's $2.6 million and earnings that were flat, was insufficient to maintain the stocks momentum. Other losers for the week included Accuray Inc. who declined 6.89%, Faro Technologies dropped 3.12%, and Mazor Robotics' give-back of 4.13% from the prior week's 10% positive price move.
All the major gainers for the week were the Japanese companies. Yaskawa Electric led the pack with its 6.66% jump, however, Keyence Corp. added 3.55% and Cyberdyne recovered 3.54% from its 3.61% declined of the prior week. We had noted that Cyberdyne had been the subject of an unusual Nomura Securities' research report and suspected the stock might rebound.
Fast Drones go Professional!
While drone warfare took a giant step forward this past week with the announcement that the Pentagon had awarded AECOM Inc. a near $1 billion contract for, 'remotely piloted aircraft operations and maintenance support' for existing DOD drone programs, non-defense recreational drones also made headlines. While drone racing has been something of a fringe sport for several years, the activity took on a more dynamic mantra with the creation of a professional racing circuit in the fall of 2016. Since then Sky TV, ESPN, MGM and ITunes have all joined in sponsorship for this amazing new sport. With drones traveling at speeds exceeding 140 miles per hour and unique simulators to help teach racing without actual drone ownership, the new Drone Racing League (DRL) has created an exciting sport format.
In a takeoff from the Mark Wahlberg movie Invincible, the league has annually invited contestants to try their skills on simulators with the hope of becoming professional racers. The Swatch DRL tryouts, annually held in New York, whittle down dozens of potential flyers to win $75,000 and a place on the professional circuit. Seven world-wide professional venues comprise the circuit which will culminate at the 2018 Allianz World DRL Championship in Saudi Arabia this September. The event will be televised in 87 countries and is expected to exceed that of last year's championship in London's Alexandra Palace. The first two years of the sport recorded over 50 million broadcast viewers and the sport is growing exponentially.
With drones already in heavy use by world militaries, police departments, businesses, science agencies and agriculture, the advent of recreational drones without a need for FAA sanctioning, is a major step forward for drone manufacturers. With hundreds of millions of 'gamers' eager for new joystick thrills, the DRL is likely to bring new buyers to the market. Already, the league advertises drones for less than $150 and entices 'gamers' with speeds that run zero to eighty miles per hour in less than a second!
Member: American Economic Association, Society of Professional Journalists, United States Press Association. Institute of Chartered Financial Analysts, Robotics Industries Association.
The Bot Brief is a weekly newsletter designed for economists, investment specialists, journalists and academicians. It receives no remuneration from any companies that may from time to time be featured and its commentaries, analysis, opinions and research represent the subjective views of Balcones Investment Research, LLC. Due to the complex and rapidly changing nature of the subject matter, the company makes no assurances as to the absolute accuracy of material presented.
Balcones Investment Research can be reached at its website BalconesInvestmentResearch.com and is headquartered in Florida; with offices in Texas and North Carolina, United States