Weekly Bot Brief on Robotic Research and Investment Review 2-9-2018
"There is no force on earth more powerful than an idea whose time has come" -Victor Hugo
Bot Index Highlights: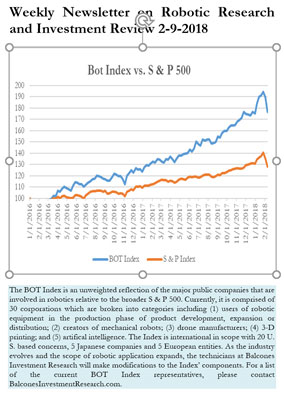 The Hurricane Sandy and Hurricane Irma of the financial world descended upon the stock markets with a vengeance this past week. As with both meteorological events, the bear ripped through international bourses leaving mass destruction in its path. Among hardest hit were those whose valuations had become strained, including many robotic issues. Consequently, the Bot Index fell 6.87%, eclipsing the 5.16% slide of the S & P 500%. Six of the Bot Index's thirty component companies experienced double digit declines. The most notable of which was iRobot, whose 34.66% collapse was predicated upon weak guidance for 2018 earnings. Investors focused on management's 2018 guidance of $2.10 to $2.35 earnings per share and ignored the 53.8% revenue increase reported for all of 2017. At the median of the guidance and at Friday's closing price, the P/E multiple for IRBT is only 26 times. We would be surprised if Tuesday (Monday trading is closed for President's Day) didn't treat IRBT favorably.
Other weaknesses were experienced by Oceaneering Intl. (-12.49%), Yasakawa Electric (-12.41%), Accuray Inc. (-11.86%), ABB Ltd. (-11.41% despite reporting a 17% year over year net income increase) and Cognex who fell 10.05% during the week.
There was only one gainer of the entire Bot universe and that was the .52% increase in the shares of 3D Systems.
One small step for man, one great leap for humankind!
While the investment world was turning upside down for much of last week, there was a more significant event that took place on the launch pad at Kennedy Space Center. In what we feel could be the seminal moment of this decade, Elon Musk's SpaceX Falcon heavy rocket blasted off on a successful mission, lifting both the prospects of manned solar system travel and Mr. Musk's personal Tesla into perpetual orbit. The success of this mission is noteworthy for a variety of reasons. First is the fact that this event's impetus was the result of the works of a private company and not a governmental entity. Secondly, not only was the company private, SpaceX has been the driving force of a single individual whose blend of a physics background from Penn and an economics degree from Wharton provided him knowledge of the physical universe and the financial realities of such a massive endeavor. Even with the resources of the world's 53rd richest man, Mr. Musk has uncovered ways to recover and reuse materials which allow each launch to be more efficient and, therefore, cost effective. Thirdly, the payload size of the Falcon heavy will allow for the potential colonization of other celestial bodies and delivery of more extensive satellite structures.
These factors cannot be understated as the implications for improvements in communication, defense, GPS advancement, weather forecasting, economic planning and development can make the world smaller and possibly safer while opening up new avenues outside our world for exploration and, ultimately, colonization.
Member: American Economic Association, Society of Professional Journalists, United States Press Association. Chartered Financial Analysts
The Bot Brief is a weekly newsletter designed for economists, investment specialists, journalists and academicians. It receives no remuneration from any companies that may from time to time be featured and its commentaries, analysis, opinions and represent the subjective views of Balcones Investment Research, LLC. Due to the complex and rapidly changing nature of the subject matter, the company makes no assurances as to the absolute accuracy of material presented.
Balcones Investment Research can be reached at its website BalconesInvestmentResearch.com and is headquartered in Florida; with offices in Texas and North Carolina, United States