Weekly Bot Brief on Robotic Research and Investment Review 2-23-18
"There is no force on earth more powerful than an Idea whose time has come" Victor Hugo
Bot Index Highlights: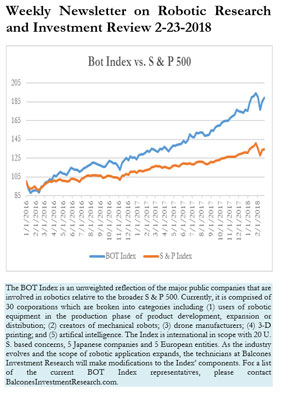 Paced by the strength of several remarkable stocks within the Bot Index, the Index shrugged off the rather sloppy market last week to accrue another 2.06%. The S & P 500 rose .55%, the differential allowing for a further widening of the performance gap between robotic names and the general market.
The best performing stocks in the Index were all a function of better that expected results in their published earnings reports. Faro Technologies led the group with a 15.50% gain as its adjusted for pretax earnings per share rose to $.50, well above the $.36 consensus estimate from Wall Street. The company's revenue of $106.4 million also exceeded expectations. Faro was joined in the double-digit club last week with a 12.15% gain recorded by Immersion Corp. The company's quarterly earnings noted a narrowing loss from year-over-year periods but 2018 revenue guidance, based upon the favorable court ruling against Apple, is expected to double over 2017 reported numbers. Also reporting surprising earnings during the week were Oceaneering International whose stock gained 7.97% and Mazor Robotics that experienced a 4.38% improvement in their shares.
Three of the weakest components of the Bot Index were likely a result of some pushback of their prior week's strength. Northrup Grumman fell 1.26% following its 7% jump in the week ending February 16. Likewise, Teledyne's 1.74% decline followed its gain of 8.09% and AeroVironment dropped 2.97% after the 7.8% increase of previous week.
Rounding out the remaining losers for the week was Cognex, whose 2.82% depreciation was a continuation of the 5% drop in value following its reported disappointing earnings. ABB Ltd. fell 1.46% on relatively weak volume and no outstanding news.
Bots in the News:
The Robotic Industry Association held a webinar last week featuring Jim Beretta of Customer Attraction Marketing. He moderated a panel of experts on Artificial Intelligence featuring intelligence in machines, perceptions and decisions, speech recognition, cloud-based AI, real-time AI and machine learning all designed to control costs, shorten time to market and increase job safety in industrial applications involving robots.
A recent paper sponsored by Stanford, Columbia and Microsoft researchers suggest that Artificial Intelligence is dramatically improving and will transform a variety of industries if appropriate data to fuel machine learning is available. They postulated that AI's contribution to productivity has, to date, been small because of the free data model, which limits the quality of data gathered. They have concerns that data access is going to be in the hands of mega-tech firms and that could limit the universal advance of AI.
According to Pitchbook, venture capital investments in AI during the first three quarters of 2017 amounted to $7.6 billion versus $5.4 billion for all of 2016. Furthermore, there was some $21.3 billion in M & A activity associated with the industry as many of the macro-tech giants gobbled up smaller innovators.
The Economist ran an article 'Buzz, Buzz, You're Dead' regarding the growing threat to conventional military activities by relatively inexpensive attack drone fleets. One cited example was terrorist drones that attacked a Russian base in Syria. The unmanned vehicles carried ten grenades, using GPS target manifestation, propelled by lawnmower engines, with a wingspan of 3 meters and a range of 100 km.
On March 5, 2018 Nissan will commence a self-driving taxi service in Yokohama according to a Tech Crunch article. The test will cover a 4.5 km. track to prepare the company's initiation of a full public launch in early 2020's.
The Committee on Foreign Investment in the United States placed its regulatory foot on the pending $580 million purchase of Xcerra by a Chinese Government controlled firm. The chip maker's transaction was similar to the agency's quashing of a $1.3 billion acquisition of Lattice Semiconductors by another Chinese firm. These regulatory initiatives were on the heels of an The Economist publication entitled, 'The Tech Race, China v America' that appeared in the Feb17-23 issue. The article noted that while the U.S. has a distinct advantage (China is estimated to be at 42% as technologically powerful as the U.S.) China is catching up rapidly and, in fact, its tech position was only 15% as late as 2012. Its stated goal, by none other than Chairman Xi, is to reach parity with the U.S. by 2020, achieve major breakthroughs by 2025 and 'occupy the commanding heights of AI technology by 2030. In a House subcommittee meeting on February 14, a NVIDIA Corp. manager testified that, "AI is the biggest economic and technological revolution to take place in our lifetimes….We can't afford to allow other countries to overtake us."
Let the race begin!!
Member: American Economic Association, Society of Professional Journalists, United States Press Association. Chartered Financial Analysts
The Bot Brief is a weekly newsletter designed for economists, investment specialists, journalists and academicians. It receives no remuneration from any companies that may from time to time be featured and its commentaries, analysis, opinions and represent the subjective views of Balcones Investment Research, LLC. Due to the complex and rapidly changing nature of the subject matter, the company makes no assurances as to the absolute accuracy of material presented.