Weekly Bot Brief on Robotic Research and Investment Review 2-2-2018
"There is no force on earth more powerful than an idea whose time has come" -Victor Hugo
Bot Index Highlights: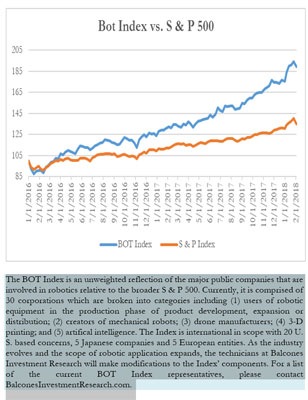 Thus far, February has not been kind to investors in the broad market and those involved in robotics investments. The S & P 500 collapsed on Friday, bringing the week's performance to a negative 3.86%. Robotics stocks within the Bot Index faired a bit better, declining 2.45% and actually included several significant gainers. The most significant return for the week was recorded by Immersion Corp. whose price soared 36.92%! Immersion's increase was as a result of the settlement of a long-standing lawsuit by Immersion alleging patent infringement by Apple regarding a variety of key Apple products. Details of the settlement are private; however, Immersion is expected to report earnings on February 22nd and the financial results of the settlement may start to show.
Other gainers for the week included ReWalk Robotics who rose 4.55% after it was reported that the German National Health Insurance Agency included a ReWalk exoskeleton device within its scope of financial coverage. Accuray Inc. rose 4.42%, primarily as a result of a Zacks Equity Research article that was entitled '4 Reasons Why You Should Buy Accuray Stock Right Now.' Mazor Robotics was mentioned in a MarketWatch article suggesting that the stock could reach $80 per share in the next several weeks (stock is currently at $64.72!). Consequently, the shares were bid up 2.99% for the week. Finally, Lockheed Martin jumped 2.25% as the company was the subject of several positive articles, including the award of an $89 million contract and a report by the Motley Fool that the company was predicting a significant increase in 2018 earnings guidance.
The losers for the week were many, including two that experienced double digit declines. After setting a high price of $2.88 on November 24th, the shares of Ekso Bionics have been cut in half in the ensuing couple of months. The stock fell 12.35% last week. Joining Ekso in the double-digit decliners' category was 3D Systems that notched a 10.17% retreat. Other weaker Bot Index components included: Fanuc -8.94%, OMRON -8.82%, Cognex -8.43%, Oceaneering International -6.51%, Apple -6.42%, AeroVironment -6.37% and IRobot -6.08%
Education is the Key!
The Bot Brief has always adhered to the logic that is represented by the Victor Hugo quote: "There is no force on earth as powerful as an idea whose time has come." Certainly, the 'idea' of robotics is a force that is gaining traction in our macro and micro economy. The robotic revolution will, likewise, impose its consequences upon societal behavior, taxes and governmental policies. To be best prepared for the implications of, and opportunities provided by, this 'idea' whose time has come, education will be essential. In that regard, there are a number of participation events that are designed to encourage youth across the globe to develop a greater understanding of this new electro-mechanical age. The FIRST Robotics Competition is an international event that challenges and inspires students to learn and create robots to achieve certain tasks. The goal is to advance STEM interest while developing camaraderie and initiative. The following is a direct excerpt from a FIRST video:
"This isn't a robot. It very well may have hydraulic arms, a drive train and a circuit board but this isn't a robot. This is a lesson in humility, hard work and collaboration. This is a cross fit workout for the muscle upstairs. This is an apple for the next generation of Newtons. It is a lot of things but this isn't a robot. This is a roadmap that leads straight to engineering. This is a rock to shatter a thousand glass ceilings, a rope to pull a generation up and out of poverty, a sledgehammer to breakdown cultural barriers and a universal language spoken in every nation on earth. And because of that, this is a compass that can help point the way to peace. But please, don't think this is just a robot. This is Glastonbury for technology. This is Mission Control for the next moon shot. This is the Rosetta Stone to help translate the future. This is the sport that will help us win tomorrow. This the software to program ourselves to cure cancer, build a clean engine, or step foot on Mars. But this isn't a robot. It's a machine to build the people who will change the world."
With this inspirational passage, the Bot Brief concludes with another quote from Victor Hugo who wrote, "Teach the ignorant as much as you can: Society is culpable in not providing a free education for all and it must answer for the night which it produces. If the soul is left in darkness, sins will be committed. The guilty one is not he who commits the sin, but he who causes the darkness."
Member: American Economic Association, Society of Professional Journalists, United States Press Association. Chartered Financial Analysts
The Bot Brief is a weekly newsletter designed for economists, investment specialists, journalists and academicians. It receives no remuneration from any companies that may from time to time be featured and its commentaries, analysis, opinions and represent the subjective views of Balcones Investment Research, LLC. Due to the complex and rapidly changing nature of the subject matter, the company makes no assurances as to the absolute accuracy of material presented.
Balcones Investment Research can be reached at its website BalconesInvestmentResearch.com and is headquartered in Florida; with offices in Texas and North Carolina, United States