Weekly Bot Brief on Robotic Research and Investment Review 2-16-2018
"There is no force on earth as powerful as an idea whose time has come" - Victor Hugo
Bot Index Highlights: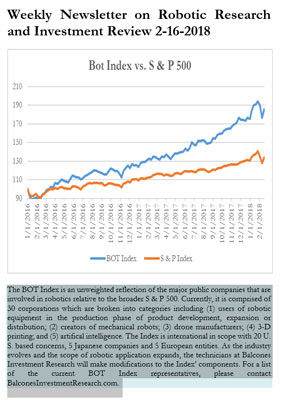 In a remarkable turnaround, investment markets sparkled in last week's trading. The NASDAQ rose 5.3%, its greatest one-week performance since December of 2011. Likewise, the S & P 500 increased 4.30%, its best week since January of 2013. With this backdrop, the Bot Index expanded almost 5% which was its most significant move since it grew by 6.64% on November 11, 2016.
While there were only 3 components of the Bot Index that recorded double digit returns, for the first time ever, none of the thirty components experienced a down week. The three best performers included IRobot whose 14.66% gain was a recovery from the 34% drop experienced following its reported earnings in the prior week. As we noted in the February 9th Bot Brief, "We would be surprised if Tuesday trading didn't treat IRBT favorably." Another double-digit returner was Apple, who benefitted from the announcement that Warren Buffett had continued to add to his $30 billion holdings of the stock. The final strong performance was achieved by Ekso Bionics whose low stock price has generally prompted wide swings in price movements.
Other significant performance was experienced by Amazon, up 8.14%; Teledyne whose 8.09% jump was attributed to the announcement that it was awarded a $45.7 million missile contract; AeroVironment, up 7.84%; Textron gained 7.14% and finally Northrup Grumman whose 7% up week was a result of an Investor's Business Daily article on the company's relative strength technical outlook and a $12.4 million laser ranger finder contract award.
Cognex deserves some note in that, while the stock rose 1.36%, it experienced a significant stumble following the announcement of its quarterly earnings. The revenue growth for the fourth quarter was a strong 39.5% improvement, however, earnings were just in line and some analysts were concerned over the company's first quarter guidance. Consequently, the stock retreated over 5% on the final trading day of the week.
"If a foreign country can supply us with a commodity cheaper than we ourselves, better to buy it of them with some part of the produce of our own industry in which we have a competitive advantage."
Those words written over 250 years ago by Adam Smith are as true today as when he penned The Wealth of Nations. Mr. Smith's inference did not restrict itself merely to commodities. Advantages such as geography, climate, demographics, energy and other natural resources are just as relevant. In today's economy the most important 'commodity' is a country's intellectual resources. It is noted that the countries that are spending the greatest percent of GDP on education include Denmark, Zimbabwe, Malta, Iceland, Sweden and Costa Rica. The greatest 'brain drain' is occurring in the Balkan Peninsula, Venezuela, Romania and Hungry; while the beneficiaries of the movement of intellectual capital are Switzerland, UAE, United States and Norway. The largest spenders on R & D include the U.S., China, Japan and Germany and the largest R & D budgets as a percent of GDP are Israel, South Korea and Japan. The Economist's Innovation Index places Switzerland, Sweden, U.K. and the United States at the top of the list. Certainly, some of the countries listed above will be in the forefront of adapting to the new era of robotics.
Other Musings.
Last week we noted the potential long-term implications of Elon Musk's successful SpaceX heavy rocket on the world economy. Indeed, this week's The Economist devoted some space to Mr. Musk and his fellow billionaires in an article that quoted, "The mega-rich have grand plans to shape humanity's future. Should that be a cause for celebrations or concern?" The timing of the article was particularly interesting as it coincided with a feature from Bloomberg Magazine regarding another billionaire whose company is a component of the Bot Index. In an article entitled, Amazon's Jeff Bezos Can't Beat Washington, So He is Joining It: The Influence Game, the implication is that Amazon is lobbying hard on sales taxes, delivery costs and drone conveyance. The lure of 50,000 jobs in the D.C. area will provide a huge incentive to help sway regulatory decision-makers in achieving Amazon's aggressive expansionary goals.
Never has so much world-wide power, money and influence been placed in the hands of so few entrepreneurs. Certainly, technological breakthroughs and social media have been the catalysts that served as the incubator of this vast wealth. It remains to be seen if new wealth from robotics will spawn a fresh set of mega billionaires. Our guess, and hope, is that robots will serve to improve the lives and financials of virtually all mankind. This 'wealth' may well be the ultimate manifestation that Smith envisioned when he wrote The Wealth of Nations. His 'invisible hand' designed to raise the condition of all.
Member: American Economic Association, Society of Professional Journalists, United States Press Association. Chartered Financial Analysts
The Bot Brief is a weekly newsletter designed for economists, investment specialists, journalists and academicians. It receives no remuneration from any companies that may from time to time be featured and its commentaries, analysis, opinions and represent the subjective views of Balcones Investment Research, LLC. Due to the complex and rapidly changing nature of the subject matter, the company makes no assurances as to the absolute accuracy of material presented.
Balcones Investment Research can be reached at its website BalconesInvestmentResearch.com and is headquartered in Florida; with offices in Texas and North Carolina, United States