Weekly Bot Brief on Robotic Research and Investment Review 12-8-2017
Bot Index Highlights:
There is no force on earth more powerful than an idea whose time has come. Victor Hugo
Robotic companies continued their two-week pattern of underperformance this week relative to the broader markets. Fully twelve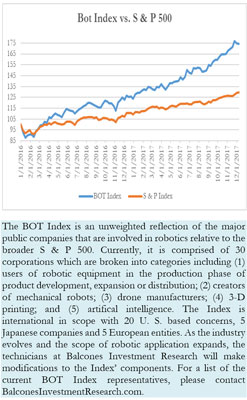 members of the 30 stock Bot Index fell over 3% during the week and drove the Index to a virtual flat performance versus the S & P 500's .35% gain. Four stocks in the health-care sector were among the greatest losers due to a Motley Fool article that focused on competition in the sector. Intuitive Surgical (-4.29%), Accuray Inc. (-6.67%), Mazor Robotics (-8.28%) and Rewalk Robotics (-6.96%) each experienced some setback as a result of the article. Despite a two for one stock split on December 4th, shares of Cognex traded down over seven percent. Immersion Corp. gave back 5.87% of the 23.38% increase it achieved in the prior week. OMRON reported third quarter earnings of $.62, down from the second quarter's $.65, and fell 4.39%. Shares of Nvidia declined 3.13% due to a report that Tesla is aggressively seeking to expand its AI exposure but possibly could bounce back next week due to a favorable Fortune Magazine article report after the market closed on Friday. Likewise, Fanuc Corp's decline of 5.42% will likely be reversed due to a new article entitled, 'The 6 Best Stocks to Buy for 2018 Before Robots Take Your Job' by Fortune. Rounding out the week names during the week were FARO (-3.30%), Oceaneering International (-5.80%) and Hiwin Technologies (-4.4%).
Despite the preponderance of weak performers during the week ending 12/8/17, the stock surge of AeroVironment and Ekso Bionics helped to offset the impact upon the equal weighted Bot Index. AeroVironment surprised investors with a strong quarter where revenues increased 47.31% from $50.1 million to $73.83 million year-over-year. Earnings per share jumped from a negative $.18 to a positive $.29 and EBITDA margins reaching 16.41%. Hence, the stock rose 24.46%. Ekso Bionics bounced back from its 18.4% decline of the prior week to gain 17.02%. The stock was assisted by a Motley Fool article entitled '3 Top Stocks Under $5'. CYBERDYNE Inc. rose 4.14% as it was referenced in an Economist article and a similar piece by TheStreet.com. Finally, 3D Systems continued its bounce from November doldrums which carried the stock down to $8.12 and rose 6.12% this week.
More Thoughts on AI:
Back in April of 2017, Elon Musk was the subject of a Vanity Fair article, 'Elon Musk's Billion-Dollar Crusade to Stop the AI Apocalypse'. This week, however, he reportedly told a group attending the NIPS Conference that Tesla was developing its own AI based chips for autonomous cars. He stated that "I wanted to make it clear that Tesla is serious about AI, both on the software and hardware. Jim (Tesla engineer) is developing specialized AI hardware that we think will be the best in the world."
This seems like a complete reversal in Mr. Musk's concerns about AI's potential destructive nature toward mankind. In thinking this through, the Bot Brief reflected on a speech by Michael Littman of Brown University's Humanity Centered Robotics Initiative (HCRI) at the TedxProvidence Conference this fall. He reiterated that the goal of HCRI is developing a three-phase interdisciplinary research program to identify human social and moral norms and implement them in robots. Mr. Littman's speech noted the fears that IA could experience an intelligence explosion in which mankind would be subservient to machines rather than machines furthering the human condition. His analysis, however, is that through science we have the opportunity to develop AI in a totally productive environment. He stressed that the Humanity Centered Robotics Initiative is focused on human-robot interactions in which AI must reflect our shared values.
The question still remains as to what road AI will ultimately follow and who will control that path. In this week's Economist there were two articles that focused on the explosion of corporate interest in the field (the Neural Information Processing Systems conference attracted 7,850 participants with many corporate sponsors and attendees). Corporations are, indeed, spending billions on trying to gain a foothold or domination in this new industry. Certainly, the Pandora's Box has been opened and, as Chairman Putin recently stated, "Artificial intelligence is the future, not only for Russia, but for all humankind. It comes with colossal opportunities, but also threats that are difficult to predict. Whoever becomes the leader in this sphere will become the ruler of the world." Perhaps Elon Musk recognized the truth to that statement and has joined in the quest to have Tesla become a leader in the application of AI automobile systems.
The Bot Brief is a weekly newsletter designed for economists, investment specialists, journalists and academicians. It receives no remuneration from any companies that may from time to time be featured and its commentaries, analysis, opinions and represent the subjective views of Balcones Investment Research, LLC. Due to the complex and rapidly changing nature of the subject matter, the company makes no assurances as to the absolute accuracy of material presented.