Weekly Bot Brief on Robotic Research and Investment Review 12-22-2017
"There is no force on earth more powerful than an idea whose time has come." -Victor Hugo
Bot Index Highlights: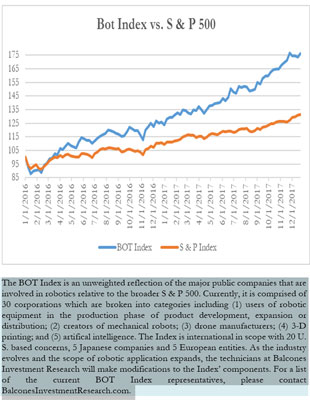 Robotic investors provided an early Christmas present as they bid up components of the Bot Index to 176.39, a gain of 1.69%. In a break from three weeks of underperformance with the S & P 500, eight robotic companies paced the Index's rebound with increases greater than two percent for the week. Two companies experienced double digit returns; Oceaneering International rose 11.29%, while Cyberdyne surged 26.30%. Oceaneering International was awarded a U.S. Wind contract involving marine geophysical surveys for the installation of 187 offshore wind turbines. Cyberdyne rose on no news other than earlier reported Economist and TheStreet.com comments citing the aging demographics of Japan and an expanding need for robotic care for the elderly. Other gainers included Textron (+2.79%), IRobot (+6.84%), ABB Ltd. (+2.31%), Immersion Corp. (rebounded 6.62% from the prior week's 8% decline), Hiwin Technologies (+5.53%) and Fanuc Corp. (+2.89%).
3D Systems fell another 8.46% and Ekso Bionics dropped another 6.58% on top of the 17% decline of the prior week. Defense manufacturer, Northrup Grumman slid 2.16% despite posting a number of significant contract awards in its pipeline.
Observations of An Emerging Pattern:
In last week's Bot Brief we discussed the impact of competition on some market leaders in the robotics/AI field. To underscore the rising tide of product rivalry, The Economist carried an article, this week, entitled Slaughterbots: Rise of the Military Robot. Despite the rather dire title, the feature's most notable information was the technological advance in drone construction, shifting from polycopters to a new form of superior performing cyclocopters. Traditional (if there is such a word in the dynamic realm of robotics!) drones have used helicopter like blades to provide propulsion. The Army Research Laboratory, however, has made a breakthrough in miniature drones using a vortex lift device which provides greater maneuverability and at a much quieter level of operation. Most certainly, drone manufacturers such as AeroVironment will need to rapidly adjust to new technologies in order to maintain market-share.
Consistent with our competition thesis, on December 18th Forbes.com ran a review on self operating vacuum cleaners. The market leader, IRobot's Roomba was not even mentioned in the article and Deebot N79 and Eufy RoboVac 11 were the researchers' overwhelming selections. Certainly, the success of Roomba has brought out significant competition. The Forbes.com researchers indicated that they tracked 121 different models of robot vacuums since 2013 before settling on 14 manufactures for their testing. In 2015, IRobot reported that 90% of the company's revenues were derived from its Home Robot division, of which the vast predominance was from vacuums. Investors have picked up on the corporate vulnerability of any one product reliance and assessing that in their investment selection. Consequently, the price of IRobot stock has been under some pressure, moving from $107 in late July to a low of $63 in late October before rallying to close this week at $79.52.
Two other Bot Index components that were mentioned in last week's Bot Brief - Intuitive Surgical and 3D Systems were also down in trading this past week. Both companies have been experiencing heavy competition in the field in which they are dominant.
Robotics in the News:
Techwatch reported on Boeing's entry for the Navy's first carrier based drone that will serve as a refueling tanker.
CNN's article, 'What is Positive Train Control, and Could it Have Prevented the Amtrak Crash'. With the train travelling at a speed of 80 miles per hour in a 30 mph zone, driver error is cited as possible reason for the crash that killed three and injured over 100 passengers. The feature suggested that the accident could have been avoided with 'robotic' oversite.
The newspaper, USA Today, ran an article on Google and Rolls-Royce's joint effort to create a fleet of self-driving ships designed to augment navigation using Google's AI advances to make ships more efficient and safe.
VentureBeat reported that Palo Alto based One Concern raised $20 million to use machine learning with the aim to predict and mitigate the impact of natural disasters.
The National Science Foundation issued a $1 million grant to Hasbro and Brown University to add AI to a Hasbro toy cat. The aim would be to serve as a companion to the elderly and, in addition, to serve reminder functions specific to the 'owner'.
Member: American Economic Association, Society of Professional Journalists, United States Press Association. Chartered Financial Analysts
The Bot Brief is a weekly newsletter designed for economists, investment specialists, journalists and academicians. It receives no remuneration from any companies that may from time to time be featured and its commentaries, analysis, opinions and represent the subjective views of Balcones Investment Research, LLC. Due to the complex and rapidly changing nature of the subject matter, the company makes no assurances as to the absolute accuracy of material presented.
Balcones Investment Research can be reached at its website BalconesInvestmentResearch.com and is headquartered in Florida; with offices in Texas and North Carolina, United States