Weekly Bot Brief on Robotic Research and Investment Review 12-15-2017
"There is no force on earth as powerful as an idea whose time has come." Victor Hugo
Bot Index Highlights: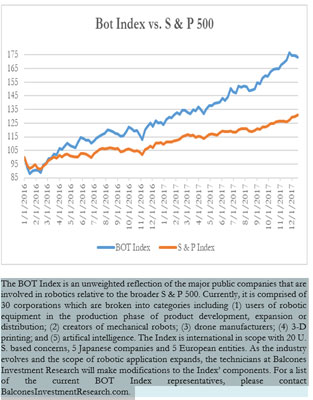 With exactly one-half of the Bot Index' composite posting negative returns for the week, the Index, for the third week in a row, underperformed the broader averages. The half percentage point drop in the Index was far overshadowed by the almost one percent increase in the S & P 500. Leading the charge to the Index' weakness included shares of Cognex, Accuray Inc., Immersion Corp., and Ekso Bionics. Both Cognex (off 5.29%) and Accuray (down 13.26%) were impacted by separate Capital Cube research articles regarding the precarious technical positions of the two companies' stock. Due, in part to their respective low stock prices, Immersion and Ekso Bionics have been among the best and worst performers over the past several months. Immersion gave up 7.93% last week and Ekso Bionics slid 17.09%. Toward the end of the week Ekso reported it had developed a strategic partnership with HASOMED to launch a combination of Ekso's exoskeleton products with HASOMED's central nervous system technology to enhance paralysis treatments. Perhaps that will influence the stock in the coming week.
Three companies whose recent stock prices have been under pressure were among the market leaders this week. Mazor Robotics jumped 3.45%, 3D Systems rose 9.12% and IRobot increased 11.47%. Interestingly, IRobot's stock was assisted by a Motley Fool article published Friday entitled, '3 Growth Stocks for Successful Investors' that stated, "IRobot's growth is set to continue chugging along for years to come." The prior week the same research company posted a report, 'The Simple Reason Why I Won't Buy IRobot Corporate Stock' with the comment that the company has low earnings visibility with a chance for disruption. Clearly the Motley Fool is sending mixed signals!
Observations of An Emerging Pattern:
Over the past few months a pattern involving certain robotic and AI companies' share prices seems to be emerging. It appears that some of the companies that comprise the Bot Index that have enjoyed considerable success in their particular industry and who have become darlings of the markets, are seeing their stock prices under pressure. Each of these companies developed certain products that were unique and exploited their initiative into market dominance. Their market leadership led to dynamic growth, earnings expansion and considerable shareholder sponsorship. However, as with every industry leader there will inevitably be competitors who are willing to forsake profits in order to erode the market share of the primary. With this level of rivalry, it is critical that the market leaders diversify product lines and use their margins to enhance technological advancement. Corporate annals are filled with examples of 'one trick ponies' that didn't stay technologically superior or remained reliant upon the single product that propelled their growth in the past. Nokia in telecommunications, IBM in personal computers, RIM in Blackberry and Eastman Kodak in cameras, have all been market leaders that failed to meet the challenges of their more techno-advanced competition.
Perhaps these past examples are concerning to investors, creating this emerging stock pattern of certain current market leaders. In recent months, the aforementioned analysts at The Motley Fool have published reports suggesting a number of robotics companies will be facing increasing corporate rivalry that will likely erode margins as new entrants are targeting frontrunners. In recent months 3D Systems, IRobot, Intuitive Surgical, AeroVironment and now even NVIDIA Corp. have been subject to stock price declines due to the apprehension of competition.
The stock of 3D Systems appears to be the first of the robotic names to experience this competition phenomenon when Barrons Magazine ran an article entitled '3D Systems Plunges 24%: Competition Rears its Ugly Head'. The stock has fallen from $22.03 on June 22 to $8.77 by December 4. While the stock has recovered since early December to this week's close of $10.40, the decline perhaps set the stage for other robotic companies that rely heavily upon a primary product.
The 3D Systems example has been followed by:
IRobot whose stock went from $107.25 on July 28th to $63.38 on October 26 due to a Benzinga feature, 'Why This Analyst Cut IRobot Price Target by $30'
AeroVironment fell to $42.16 on November 15 from $54.54 on October 9 on a Harvard Exclusive research piece entitled, 'Why AeroVironment has 30% to 50% Downside Risk' and Barrons Magazine's 'Robo-boosted Drone Maker AeroVironment May Be Headed for a Fall'.
Mazor Robotics collapsed 15% since October 31st due, in part, to a Motley Fool research report - 'Mazor Robotics Might Need to Worry About This Potential Rival the Most'.
The market favorite NVIDIA Corp. was also hit by articles from Market Watch ('A Warning to NVIDIA and AMD: GPU's May Not Hold the AI Chip Crown for Long'), Motley Fool's ('Watch Out NVIDIA, Tesla's Working On a Custom AI Chip') and Investopedia who wrote, ('NVIDIA's 11% Plunge May Be Just the Start'). The stock has dropped $29.52 since November 10.
These are just a few examples of how investors are reviewing the robotic industry and its rapid product development cycle and surging competition. Expect more volatility as billions of dollars/pounds/rubles/yen/yuan enter the investment pool to tap the dynamic growth of the Robotic Revolution.
The Bot Brief is a weekly newsletter designed for economists, investment specialists, journalists and academicians. It receives no remuneration from any companies that may from time to time be featured and its commentaries, analysis, opinions and represent the subjective views of Balcones Investment Research, LLC. Due to the complex and rapidly changing nature of the subject matter, the company makes no assurances as to the absolute accuracy of material presented.
Balcones Investment Research can be reached at its website BalconesInvestmentResearch.com and is headquartered in Florida; with offices in Texas and North Carolina, United States