Weekly Bot Brief on Robotic Research and Investment Review 12-13-2019
"There is no force on earth more powerful than an idea whose time has come." -Victor Hugo
Bot Index Highlights: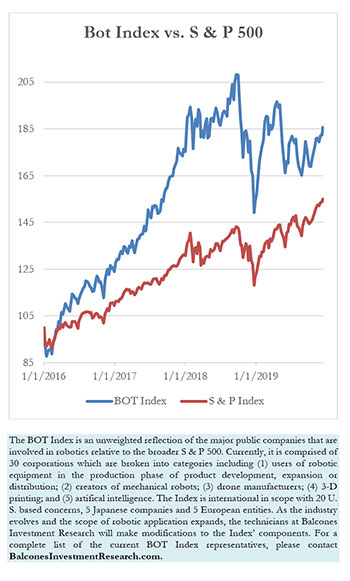 The markets were propelled by several political and economic events during the week. Pushing the markets forward were the on-again, off-again China tariff issues, the announcement of household net worth reaching an all time high of $113.8 trillion during the third quarter and the overwhelming defeat of the Labor Party in Great Britain, presuming to lead to an extraction from the European Union. Restraining the markets' further increases were the report that retail sales were weaker than expected at only .2% and the House vote for impeachment of the Administration. Consequently, the S & P 500 rose .73% and the Bot Index increased by 1.76%.
A full ten Bot names increased above three and a quarter percent during the week. Only two components declined by that same amount. Of the gainers, ABB Ltd. was the surprise inclusion with a 4.67% gain. The company was upgraded to a Zacks 2 – Buy due to increasing optimism on potential earnings gains. NVIDIA Corp rose 5.57% as it was included in Kiplinger's Magazine in an article entitled 'The 20 Best Stocks to Buy for 2020'. Cognex Corp. jumped 6.11% on a report that the company's shares have been subject to a 5% increase in hedge fund exposure. The stock of Immersion Corp. jumped 6.34% as investors anticipated a good showing of the company's new 15" haptic touch screen for automotive consoles. Other gainers included NIO Corp. that rose 5.75%, DDD added 3.27%, iRobot increased 3.28% and Ekso Bionics gained 7.41%.
There were only two losers of any magnitude. Cyberdyne lost 7.63% and Textron, who announced job cuts in its home office, fell 3.81%.
Expansion in Ljubljana:
In August of 2017 we visited the Robotic Research facility of the University of Ljubljana in Slovenia. The advances taking place at the university were one of the reasons for Yaskawa Electric's decision to invest into a significant new plant in the region. After two years of construction, the 25 million euro plant will employ 150 and is expected to produce 10,000 Motoman robots per year. Motoman is an industrial robot designed for high speed joining, packaging and general handling processes.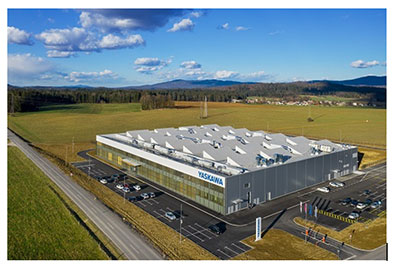 Member: American Economic Association, Society of Professional Journalists, United States Press Association. Institute of Chartered Financial Analysts, Robotic Industries Association.
The Bot Brief is a weekly newsletter designed for economists, investment specialists, journalists and academicians. It receives no remuneration from any companies that may from time to time be featured and its commentaries, analysis, opinions and research represent the subjective views of Balcones Investment Research, LLC. Due to the complex and rapidly changing nature of the subject matter, the company makes no assurances as to the absolute accuracy of material presented.