Weekly Bot Brief on Robotic Research and Investment Review 11-8-2019
"There is no force on earth more powerful than an idea whose time has come." -Victor Hugo
Bot Index Highlights: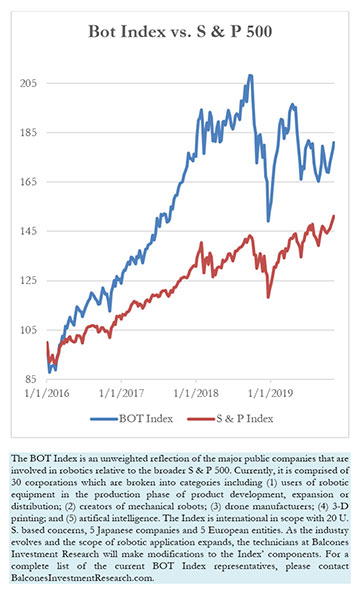 The first week of November proved constructive for investors in robotic stocks. The Bot Index gained a bit over one and a half percent while the S & P 500 rose .85%. The bots were led by the 30% move in the Chinese electric vehicle NIO Inc. The stock was aided by seemingly progress in the negotiations between the U.S. and China on tariffs. Adding to the gainers was Accuray Inc. whose 8.20% increase was a result of an Insider Monkey article that was entitled, "Hedge Funds are Crazy About Accuray Incorporated". Qiagen NV rose another 3.33% based upon its better than expected earnings and Faro Technology gained 3.08% as it continues its slow assent over the past month.
Two of the lowest performers for the week were Japanese companies. Keyence and Yaskawa Electric fell 2% and 2.73% respectively. Ekso Bionics experienced a 3.17% retreat while Immersion Corp. led the losers with a 4.74% slide.
Bots in the News:
In this week's Outside Magazine was an article entitled "How Cheap Robots Are Transforming Ocean Exploration". The feature provided an in-depth interview of scientists and entrepreneurs that are utilizing small robots to detect changes in the ocean. While the initial intent was to search the ocean floor for shipwrecks, as the robots evolved, so have their capabilities to provide scientific data. The article discussed the precept that we have likewise identified as a paradox regarding the money being spent on outer space exploration relative to commitments for oceanic research. To emphasize the point, the Branson company Virgin Galactica recently became listed on the NYSE and started trading. With Space X and Blue Origin, these commercial ventures are committing millions into interstellar activities. While there are some 'angels' that are supporting the effort to understand the 70% of the earth that is covered with water, the amount of serious dollars aimed in oceanographic study is lagging.
Member: American Economic Association, Society of Professional Journalists, United States Press Association. Institute of Chartered Financial Analysts, Robotic Industries Association.
The Bot Brief is a weekly newsletter designed for economists, investment specialists, journalists and academicians. It receives no remuneration from any companies that may from time to time be featured and its commentaries, analysis, opinions and research represent the subjective views of Balcones Investment Research, LLC. Due to the complex and rapidly changing nature of the subject matter, the company makes no assurances as to the absolute accuracy of material presented